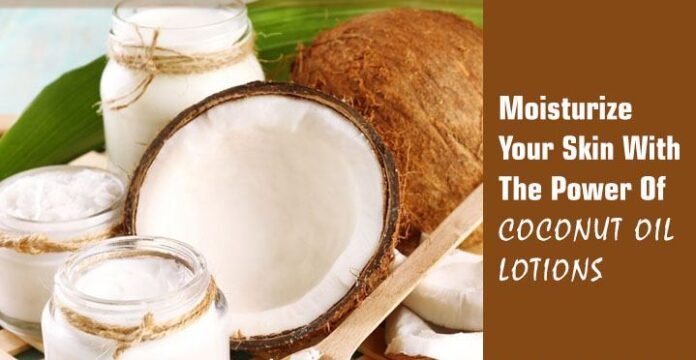 The best coconut oil lotion recipes are natural and gentle on skin. Coconut oil lotions can give you smooth, glowing skin, without using harmful chemicals, dyes or fragrances. Coconut oil lotion is one of the shining stars of the organic beauty world. Well, if you are confused about how to make coconut oil lotion, then this article is sure to help.
Making homemade coconut oil lotion is entirely different from making coconut oil. Coconut oil lotion would require some additional ingredients while making coconut oil is all about extracting the oil from the coconut. Even though using coconut oil as lotion might be an alien idea to the west, people in South Asian and Indonesia have been using coconut oil as a lotion for ages. Once you make coconut oil lotion recipe, it will be easy for you to make coconut oil body butter, coconut oil moisturizer, and coconut oil cream.
Best Coconut Oil Lotion Recipes (Our Top Picks)
1. Lotion Bars
Coconut oil will turn solid naturally at or below 76 degrees. So, it is perfect for using lotion bars. Lotion bars let you combine the nourishing benefits of coconut oil lotion recipe and that too not in a liquid form. These bars should not be used as soap. Instead, it should be used on wet dry skin.
Ingredients
1 cup of coconut oil
1 cup of mango butter , Shea butter or, cocoa butter (or a mix of all three)
1 cup of beeswax
one teaspoon of Vitamin E oil
Combine all these ingredients together in a double boiler. Bring the water to boil and constantly stir until they are smooth and melted. Once it cools down add essential oil. Stir well to make sure that all the ingredients are mixed well. Pour these into molds carefully. Silicone baking cups are the best choice.
Once it cools out completely. Pop it out and use. You can also use different molds according to the occasion. For example- heart shaped for Valentine's day. You can also make this in as square baking pan and then cut into atrial bars. This can be used as a coconut oil moisturizer as well.
2. Homemade Whipped Extra-Virgin Coconut oil lotion
This homemade lotion with coconut oil just needs a very simple ingredient Extra virgin coconut oil. It is better to use a coconut oil that is crème de la crème. To get enhanced skin healing properties, you can add vitamin E oil For better skin healing properties. Get ready to welcome the light and the fresh smell of coconut oil. This is one of the best applications of coconut oil as a lotion.
So how do you make it?
Ingredients
One cup of extra virgin coconut oil
One teaspoon of Vitamin E (optional)
Two drops of essential oils (for added fragrance – optional)MEadurae an up of extra by these ingredients onto a mixer and process it for six to seven minutes. Pour it into your desired container, seal it and enjoy this homemade coconut oil lotion. It can also be used as a coconut oil moisturizer.
3. DIY Lavender Coconut Body Cream
Similar to the last lotion, this one includes Vitamin E, coconut oil, and essential oil. But, the ingredient that makes the difference is lavender. Make sure that the coconut oil you use is unrefined and organic. The body cream is perfect for nighttime application as lavender is relaxing and calming before bed. Use it on your arms and chest, and the soothing smell of lavender will relax you in return.
Ingredients
1 cup of Extra Virgin Coconut Oil
One teaspoon Vitamin E (or a few capsules)
18 to 20 drops of essential oil (lavender)
Measure the ingredients into a mixing bowl. Use a hand blender until it's airy and light. This will take up to 3 minutes. Now store it in a glass container and reap the benefits of homemade coconut oil lotion and lavender. This body oil recipe/ coconut oil moisturizer can be of great help to get good sleep as well.
4. Luxurious Homemade Coconut Oil Lotion
It's better that you don't add any an additional liquids to make a homemade coconut oil lotion. This way, it will remain nourishing and won't expire soon. You can also customize the lotion to your preference by adding different types of essential oils. To make a firmer homemade lotion with coconut oil, you can add more beeswax. If you want a smoother homemade lotion with coconut oil, then consider adding more liquids like almond oil.
Ingredients
1/2 cup of Olive or Almond oil
1/4 cup of coconut oil
1/4 cup of beeswax
one teaspoon Vitamin E oil (Optional)
two tablespoon Cocoa Butter or Shea Butter       (Optional)
Essential Oils, Vanilla Extract (Optional)
Combine all the ingredients in a large glass jar. You can even reuse jars from olives or pickle if it's clean. Fill a medium pan with some water and heat it. Pour a fitting lid on the jar loosely and place it in the pan. Once the water heats up, all the ingredients inside the jar will start melting. When the ingredients melt completely, pour it into a jar. Small mason jars will be perfect. Use this coconut oil lotion recipe like your regular lotion. This one has a longer shelf life as well and is the perfect coconut oil moisturizer. Use this body oil recipe/lotion for six months to attain all the moisturizing benefits.
5. Magnesium Body Butter
Magnesium oil is extremely useful for a lot of purposes. But, when it comes to skincare it might not benefit everyone in the same way. For some, it might leave the skin dry. So, if you use magnesium infused body butter, you can get all the goofiness of magnesium oil and efficiently tackle its side effects.
Ingredients
1/4 cup of coconut oil (unrefined)
1/2 cup of magnesium flakes + 3 Tablespoons   boiling water (You can also use pre-made magnesium oil.
3 Tablespoons of Shea Butter
2 Tablespoons of emulsifying wax
Pour a few tablespoons of boiling water on the magnesium flakes until it dissolves. This can create a very thick liquid that can be put aside to cool, combine the coconut oil, Shea butter ad emulsifying wax. Once melted, remove the jar and let the mixture cool. Now pour the oil mixture into a blender and blend it. Now add the magnesium mixture to the oil mixture. And mix it well. To gather more consistency pour in the fridge for around 15 minutes and then reblend it to attain proper consistency. If you want to use it as a cooling lotion, you can keep it in the fridge. The shelf life in room temperature is two months. It can be effectively utilized as a coconut oil moisturizer as well.
Conclusion
As said above Making a coconut oil lotion recipe is completely different from making coconut oil. Each body oil recipe listed above is perfect to be made at home. Many of us combat with questions like how to make a natural lotion or how to make organic lotion. Well, coconut oil lotion is the best of them all and the homemade coconut oil lotion recipes will be of great help to you.