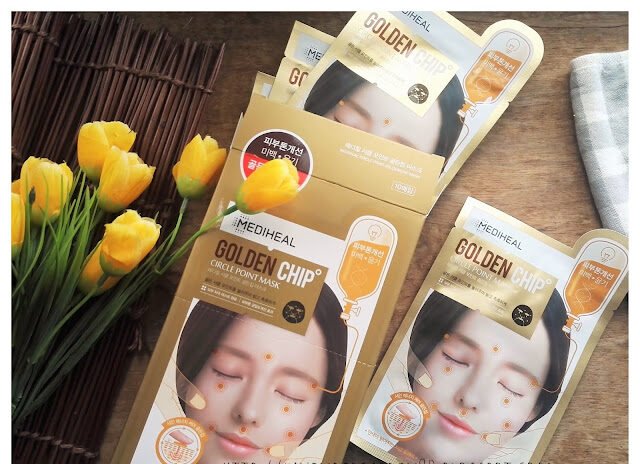 Mediheal is quite innovative in their sheet mask collection. They came out with clay mask in a sheet, ampoule mask, acupuncture mask and so on in the recent years. Today, I'm gonna talk about this Mediheal Golden Chip Circle Point Mask, which is essentially its acupuncture mask that is meant for anti-aging and wrinkles reducing properties.
I shared my thoughts on its sister product – the Black Chip Circle Point Mask and Blue Chip Circle Point Mask earlier, now onto the golden one for anti-aging!
Review: Mediheal Golden Chip Circle Point Mask
The mask claims to brighten up your skin and improve your wrinkles and fine lines. It is also great for dry and tired skin. The golden chip is made of mineral energy multi-stone to stimulate and vitalize acupuncture points on your face. It can prevent wrinkles, improve blood circulation and revitalize your skin.
The sheet mask is packed in a nice and neatly folded sheet. The mask is made of soft cotton fabric soaked in clear essence. It is quite difficult to describe the scent, not exactly floral or fruity, more like spicy and cottony blend, not something that I love but not disturbing either.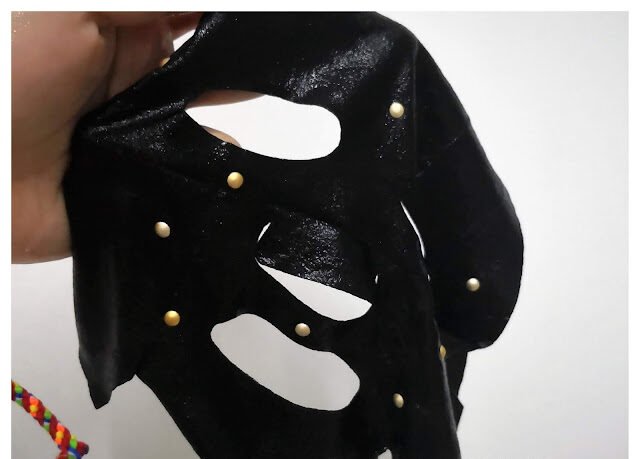 The mediheal golden chip circle point mask adheres to my skin perfectly. The chip should be placed towards your face, so that you can press down the chips that target some acupuncture points on your face. Doing so will promote better blood circulation and provide additional skincare benefits for skin firming effects.
The mask will start to dry out along your hairline and jawline after 10 minutes or so. It will also start crumbling when you press down the chip point, so the whole masking process is not that comfortable and pleasant compared to other masks.
Review Mediheal Golden Chip Circle Point Mask Ingredients
[INGREDIENTS ANALYSIS] Water, Propanediol, Niacinamide, Sorbitol, Glycerin, Sodium Hyaluronate, 1,2-Hexanediol, Glutathione, Sodium Ascorbyl Phosphate, Ascorbyl Glucoside, Salix Alba (Willow) Bark Extract, Portulaca Oleracea Extract, Hydrolyzed Collagen, Aloe Barbadensis Leaf Juice, Beta-Glucan, Ethylhexylglycerin, Xanthan Gum, Butylene Glycol, Boswellia Serrata Resin Extract, Panthenol, Trehalose, Betaine, Cabomer, Allantoin, Polysorbate 80, Arginine, Adenosine, Disodium EDTA, Tocopheryl Acetate, Geranium Maculatum Oil, Citrus Aurantium Dulcis (Orange) Oil, Citronella Oil, Lavandula Hybrida Oil, Pogostemon Cablin Oil, Monarda Didyma Leaf Oil, Eucalyptus Globulus Leaf Oil.
Ingredients-wise, this contains a good blend of moisturizing and elasticity-improving ingredients such as niacinamide, sodium hyaluronate, vitamin C, willow bark extract, green parsley extract, hydrolyzed collagen, beta glucan and so on. The ingredients do appear promising with many commonly used and scientifically proven skin-benefiting goodies. Mediheal masks are always made of quality ingredients anyway so what matters here is the efficacy and application.
My skin doesn't look much brighter or plumper after applying. It also doesn't feel more comfortable. In fact, the essence is so sticky that I have to rinse my face with water before going to bed. And this is not my first time using this mask. This is my 3rd piece from the box and I still find it uncomfortable and sticky so I think I am not gonna recommend this mediheal golden chip circle point mask or repurchase in future. Thanks for reading and see you next post Review Neogence Verbena Brightening Mask and Centella Renewing