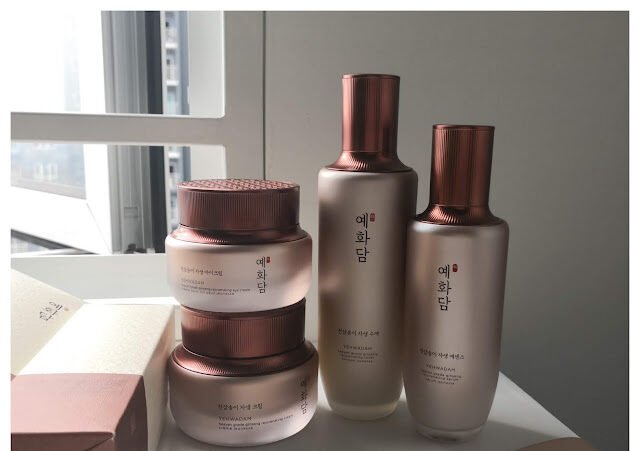 Today, I will review The Face Shop Yehwadam Heaven Grade Ginseng Rejuvenating Line. Great news for any ginseng or oriental herbs lovers because now you can get these luxurious ingredients at reasonable prices from THE FACE SHOP!
Actually, I am not new to ginseng, peony, lotus or any similar oriental ingredients for anti-aging and anti-wrinkles benefits. I have tried many Sulwhasoo products before, and they were great at producing ginseng products. The downside, of course, is the higher price tag. I also wrote about THE FACE SHOP's sister company, The History of Whoo's star products the Bichup line 2 years ago, and had received overwhelming responses over that one. Many people asked me where can they find similar products at cheaper price.
So, I am pretty excited when THE FACE SHOP sent me their recently launched reformulated Yehwadam Heaven Grade Ginseng Rejuvenating products! Not only are the packaging better, with more Royal Palace like design, the scent and the texture also have close resemblance to the Bichup line.
After using them for about 2 months from the day of receiving it, I think it is safe to call them a more nourishing and mature skin-targeted skincare line for any hanbang lovers like myself!
THE FACE SHOP actually puts a lot of efforts into the packaging which you can see. Unboxing is a joy.
I love the red brownish design of the boxes!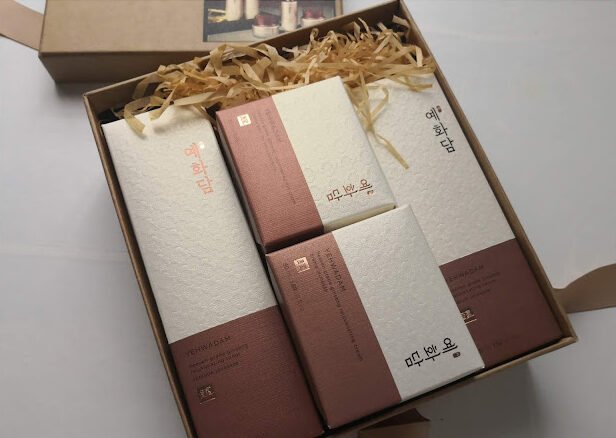 All four products lied neatly inside the box!
I actually recycled the boxes as stationery and miniatures holders. The boxes are so pretty that you won't want to throw away at all!
Yehwadam Heaven Grade Ginseng Rejuvenating Line
Yehwadam is a Korean term. "Ye" means plants and herbs; "hwa" means flowers; and "dam" is story. All three add up to "the skin changing story of herbal plants and flowers.
This line is meant for women aged 35 and above, but I think anti-aging is not something that should be set and stone. You can kick start your anti-aging journey as soon as you find it necessary, or that you have drier or saggy skin.
Yehwadam curated herbs from the Medicinal Herb Island located in Southern Korea where rare herbs were usually plucked and sent to the Royal Court as tribute to the Emperor, so these are real Royal goodies. This renewed Yehwadam Ginseng line contains 2x concentration of the ginseng extract and natural pine mushroom extracts compared to the older formula.
The Face Shop Yehwadam Ingredients
Panax Ginseng Extract – a powerful anti-aging, anti-wrinkles and anti-oxidizing ingredient that is shown to be powerful even used in a small amount
Peony Root Extract – a commonly seen oriental ingredient with blood circulation improving, brightening, UV rays protecting and anti-wrinkles properties
Canola Flower Extract – known for its ability to bloom during the winter, this ingredient is antioxidant rich and can prevent premature aging of the skin
Gold dust – known as an eternal immortal jewel, gold dust is commonly used as anti-aging ingredient to improve the overall radiance of the skin
Safflower Seed Oil – It is a lubricant when applied topically to give the skin a soft and smooth appearance. It contains strong inhibitors of melanin synthesis hence are great as skin brightening agent. It is rich in linolenic acid, NMF and beneficial fatty acids to help repairing any damages in the cells
Lotus Seed Extract – rich in linoleic acid to provide anti-oxidizing and anti-inflammatory for the skin; its rich adenosine content also helps to replenish energy of the cells and revitalize the skin
THE FACE SHOP Yehwadam Heaven Grade Ginseng Rejuvenating Toner
This essence toner is used at the first step of your skincare regime to hydrate and prep your skin.
The unique part about this toner is that it is an essence-type toner with 5% oil in it that helps to seal in moisture and active ingredients. Your skin will immediately feel velvety thanks to the safflower oil, ginseng extract, and NMFs inside. This alone can replace both toner and emulsion for my normal-to-dry skin type.
THE FACE SHOP Yehwadam Heaven Grade Ginseng Rejuvenating Serum
I am delighted that despite its seemingly rich consistency, this serum is not sticky or greasy at all. It sinks immediately into the skin, creating a velvety and very smooth finish especially for dry and mature skin.
This is loaded with LG patented anti-aging herbal blend, with things like mushroom extract, ginseng, grapeseed extract, gold extract and so on. The key humectant here is hydrogenated lecithin, a fairly commonly used skin restoring emollient that will fill in gaps within your cells to create a soft and silky finish.
THE FACE SHOP
Yehwadam Heaven Grade Ginseng Rejuvenating Eye Cream
I was most excited about this eye cream. In fact, I specifically requested for this when THE FACE SHOP approached me!
This is a skin brightening and nourishing eye cream with loads of nutrients in it. Surprisingly, despite its balm like texture, the eye cream actually blends in really well into your skin. I am not sure about oilier skin type, but I don't think normal to dry skin will have an issue with it. I also don't find the eye cream irritating or harsh whatsoever. It contains the right amount of emollient to pamper and soothe your eyes area.
The eye cream comes with a spatula for hygienic purpose. A small amount is required for each use.
Can you see that it is not completely white. The little pearl powder in it actually sits on your skin and produces a translucent and "shinny" effect to make your eyes area appear brighter. It is much more natural and skin-loving than under-eyes brightener or highlighter in my opinion.
The rich ceramide content also helps to repair and regenerate your skin barriers, and reduce any cracks or skin damages that might lead to wrinkles formation.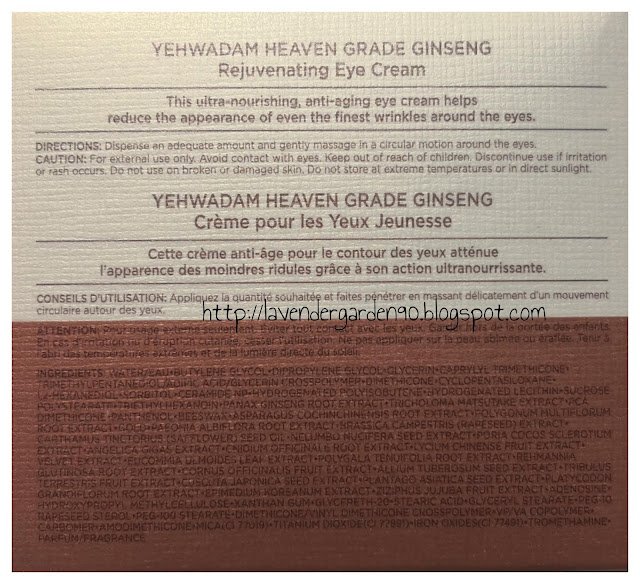 THE FACE SHOP Yehwadam Heaven Grade Ginseng Rejuvenating Cream
This is a moisturizing and anti-aging cream enriched with polysaccharide and ceramide to seal in moisture and strengthen your skin barrier. Basically, it is an emollient-occlusive like cream that is designed for wrinkled and drier skin to nourish and comfort the skin.
I wouldn't call it greasy, but more like buttery or rich.
It doesn't leave any stickiness on the skin, but you won't feel as if you have applied nothing.
As this cream is on the richer or heavier side, I use it mainly for massaging purpose. I normally apply a drop of my Leegeeham Propolis Ampoule, blend both products together, and massage it on my neck, elbow, knees or any drier parts in my body.
My favourite way of using it is with my Neogence Sonic Facial Lifting Massager. Right after cleansing and toning, apply the cream all over my face, and massage it with my massager is a true SPA experience after a stressful working day.
CONCLUSION
I am really glad that THE FACE SHOP had sent me these for review. They are like little sisters of The History of Whoo luxurious Bichup line worths thousand over ringgit, but at only a fraction of the price of Whoo. If you ask the differences… Yehwadam Heaven Grade Ginseng Rejuvenating is slightly richer in consistency, with greater focus on herbal flowers and nourishing moisturizing factors. The scent is also more floral than spicy. Normal skin with dry, flakiness and premature aging will do equally fine with Yehwadam.
Among all of these, my favourite is the eye cream, which gives an instant brightening effect after light massaging. The texture is also not greasy or rich at all. You can get both brightening and anti-aging effects with just one bottle.
Next, I am gonna give this whole set to my mom so that she can try these wonderful products out. She loves Royal Palace thingy. And since I used these products with spatula that comes with them, there is also no issue with hygiene here! I will update you guys what she thinks about the products later!
You can find them at: THE FACE SHOP official website
[Disclaimer] Products are sponsored, but opinion expressed here are my own and honest thoughts. All copyright of contents and images in this article is strictly mine.