Today, I will review A.H.C Premium Hydra Soother Cellulose Mask. A.H.C started off as a popular brand among local beauty shoppers (代购). Many beauty shoppers will recommend A.H.C, including those from Hong Kong, Taiwan and even Malaysia when it comes to Korean skincare. I am not sure why. Maybe A.H.C pays them incentives, or they can get A.H.C products at really cheap prices. I have tried out many A.H.C products myself. They are decent, but not premium or extremely impressive you see. Besides, it is hard to judge the authenticity of A.H.C products. They are too viral on the internet that you cant tell for sure whether they are original.
A.H.C Premium Hydra Soother Cellulose Mask Overview
Luckily, Watson's and many other reputable retailers start to carry A.H.C products nowadays so those who are concerned can definitely check the brand out at Watson's outlet.
The Premium Hydra Soother Cellulose Mask that I got here is not from Watson's. I bought it from a seemingly decent Korean retailer. The Jayjun masks I bought from them are authentic so I am assuming that this A.H.C ones are too.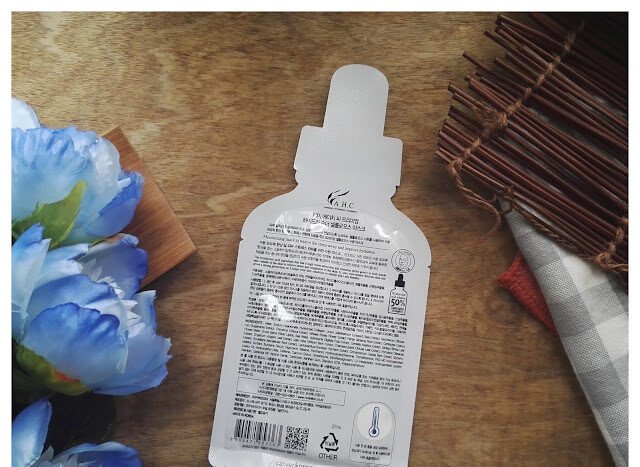 This particular mask is meant for skin moisturizing and relieving purposes. It is saturated with 50% hyaluronic acid solution to retain moisture on your skin to quench your skin of its thirst. It can moisturize, de-stress, soften, and rejuvenate your skin.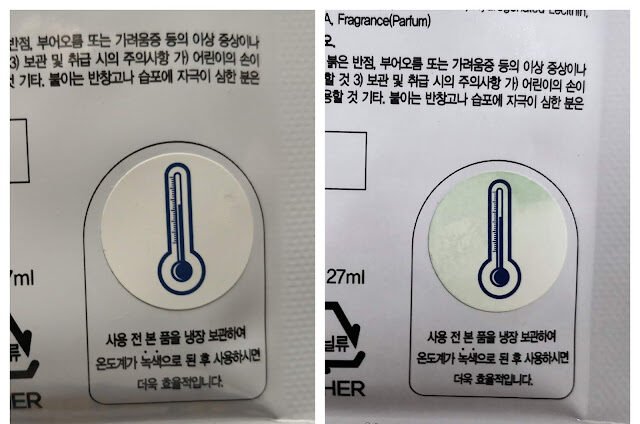 And the unique part about this mask is that you need to put it in the fridge for 15 minutes or longer, until the little thermometer at the back of the mask turns green, before using. So it gives you extra cooling and soothing effect too.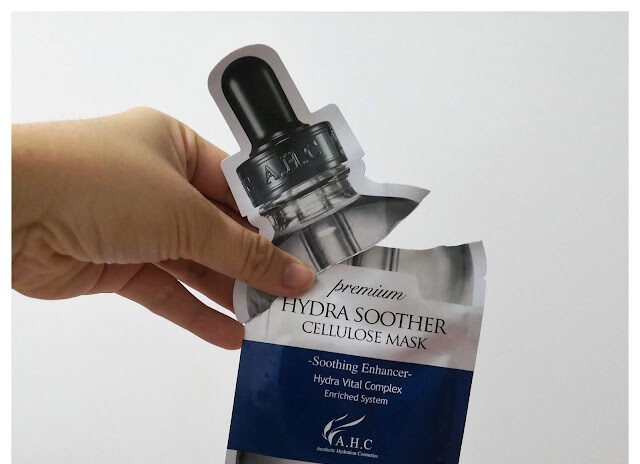 After the thermometer turns green, you can take the mask out from the pocket. The mask was soaked in slightly viscous but clear essence. It was quite wet and was dripping in essence. The mask had a strong perfumy scent that I don't quite enjoy.
I then applied the mask on my face. It fitted perfectly. It didn't give me any discomfort while wearing it. No itchiness whatsoever.
A.H.C Premium Hydra Soother Cellulose Mask Ingredients
Ingredients-wise, this mask is made of 50% sodium hyaluronate, so you can expect it to be sticky but deeply moisturizing. Other ingredients like hydrolyzed collagen, linseed seed extract, sugarcane extract, ginseng root extract, and many more are antioxidants packed botanical extracts to protect and repair your skin from daily stressors.
Despite the marketing vow, unique characteristics, nice materials and fancy ingredients, this mask fails to impress me. It feels really sticky on my skin. My skin cannot absorb all the sodium hyaluronate so they all stay outside my skin. It is not absorbing even after 30 minutes of wait or so, so I just have to rinse my face with water and apply my normal skincare after that.
Conclusion
This is my 2nd piece in the box and the experience is the same so I think it is not worth trying further. I will not recommend this, especially to those who are wary of sticky sheet masks. Even Hada Labo Lotion on cotton pad will hydrate my skin better than this! Thanks for reading and next post I will Review BCL Saborino Morning Mask – Moisturizing and Minty Fresh.