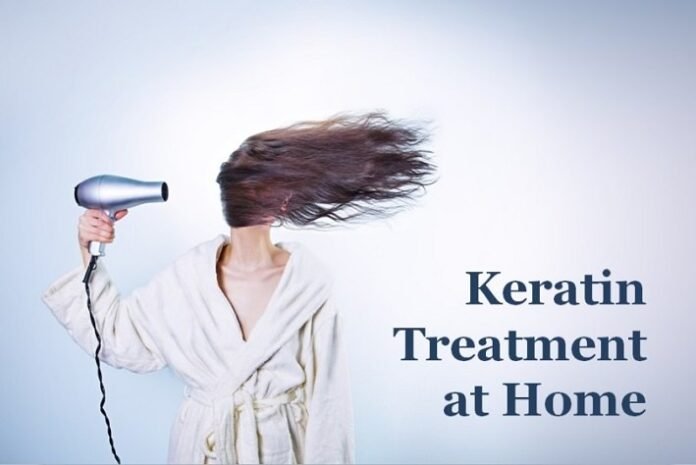 Keratin is a versatile and robust protein mostly found in the hair, skin, nails, and teeth. In the beauty industry, keratin is primarily used to repair and restore broken and damaged hair, but it also offers a wide range of other benefits such as:
adding moisture to the hair to make it smooth and soft
eliminating curls and frizz
reducing the time required to wash, dry and style hair
preventing grow-outs
adding a dark shiny glow to the hair
While most people prefer getting keratin treatments at salons, keratin treatment at home is just as efficient if performed correctly.
Safety precautions
Before going onto a keratin treatment at home, you should be aware that there are certain health risks because of the ingredient used – formaldehyde. During keratin treatment, under high temperature of flat iron, this ingredient turns into gas. This is why you should make keratin treatment in a well-ventilated room.
To be safe while making your keratin treatment at home, you need to use gloves. Keep the product away from the skin, eyes and don't inhale it.
You should avoid keratin treatment if you have psoriasis or seborrheic dermatitis, or first check with your dermatologist.
Here is a step-by-step guide on how to do it.
Keratin treatment at home – step by step:
For one treatment 1 – 2.3 ounce (30 – 70 ml) will be required, depending on the hair length.
For keratin treatment at home, you will need:
the keratin supplement
pre-shampoo
a towel
a comb
gloves
blow dryer
a hair flat iron.
With these in hand, you can proceed by:
Washing and rinsing the hair
The hair needs to be clean and soft before the treatment. As such, use the pre-shampoo to rid it of dirt and other impurities by rubbing it into the hair and scalp and then rinsing.
For best results, it is advisable that you wash it at least two times for people with straight hair and at least one more time for people with extremely curly hair.
Ensure that you do not use a conditioner as this may compromise the whole process. Also, check to see that it is thoroughly rinsed.
Applying keratin
Once the hair is clean and fresh, proceed to dry it using the towel. Make sure to leave some moisture, as it will help the keratin integrate easier and better. Ensure that you first shake the keratin thoroughly before application.
You can then proceed to apply it on the hair, starting from the tips of the strands going up to the scalp.  Work the keratin into the hair by rubbing it in gently.
However, keratin shouldn't by any chance get on the scalp and skin as it can be easily absorbed by the skin cells. Don't apply it closer than 1 inch from the scalp.
Combing and blow drying
Keratin treatment at home doesn't end here – you have to give the protein some time to seep into the hair strands.
To enhance this, comb the hair strands gently and thoroughly, leaving the hair strands straight and smooth.
Leave the hair in this state and give it half an hour to set. After the 30 minutes of setting, use a round brush to blow-dry it until it is completely dry.
Ironing
This is a crucial part of the process as it helps lock the keratin into the hair seamlessly.
Using a flat iron, divide the hair into small sections and seal the keratin in by running the iron over the hair strands.
Make sure the hair divisions are small and thin enough to ensure the heat from the iron is felt even.
Waiting
That is the last phase of the treatment. Now all you have to do is leave the hair in that condition for 48 hours. This is the time required to let the keratin seep into the hair and work its effects.
Several precautions should be taken here to avoid compromising the process. To start with, avoid getting the hair wet or else the keratin will be washed away.
Also, make sure that the hair is always straight. To this end, avoid pulling and tucking it behind the ears, forming a ponytail or even holding it together using hair beauty accessories.
Finalizing
Your hair is now ready to get a completely new look and feel after the 48 hours of waiting. To achieve this, shampoo and condition the hair thoroughly and then blow-dry.
At the end of the keratin treatment at home process, your hair should be smooth, shiny and straight, with a soft glow around it.
Keratin treatment lasts for 2 and a half to 3 months, but it is not recommended to repeate it that often. Two or three times a year should be maximum.
What keratin to buy?
Keratin treatments are really expensive, especially if done in salons. If you decide to do it yourself at home, and if you are aware of the precautions that need to be made, then you can have keratin treatment for a lot less money.
Keratin products for this treatment can cost up to hundreds of dollars, but there are good and efficient keratin products available for an affordable amount of money.
This one has a surprisingly good price for the quality it gives. It also has very good reviews on the internet.
Did you try keratin treatment at home? How did it go?