You know your girl is a NARS devotee. So it wouldn't be right to have the Nars Exposed Cheek Palette in my hot little hands and not review it for your viewing pleasure.
This limited-edition cheek palette uncovers maximum colour, expose your style with a lineup of universally flattering shades in a breakthrough formula
Formulated with Colour Clarity Complex, an innovative blend of pure pigments, delivering vibrant, buildable colour to accentuate all skin tones
Can be worn wet or dry for different effects. Apply dry for a silky veil of second-skin colour or wet for a high-impact glow
Review Packaging Nars Exposed Cheek Palette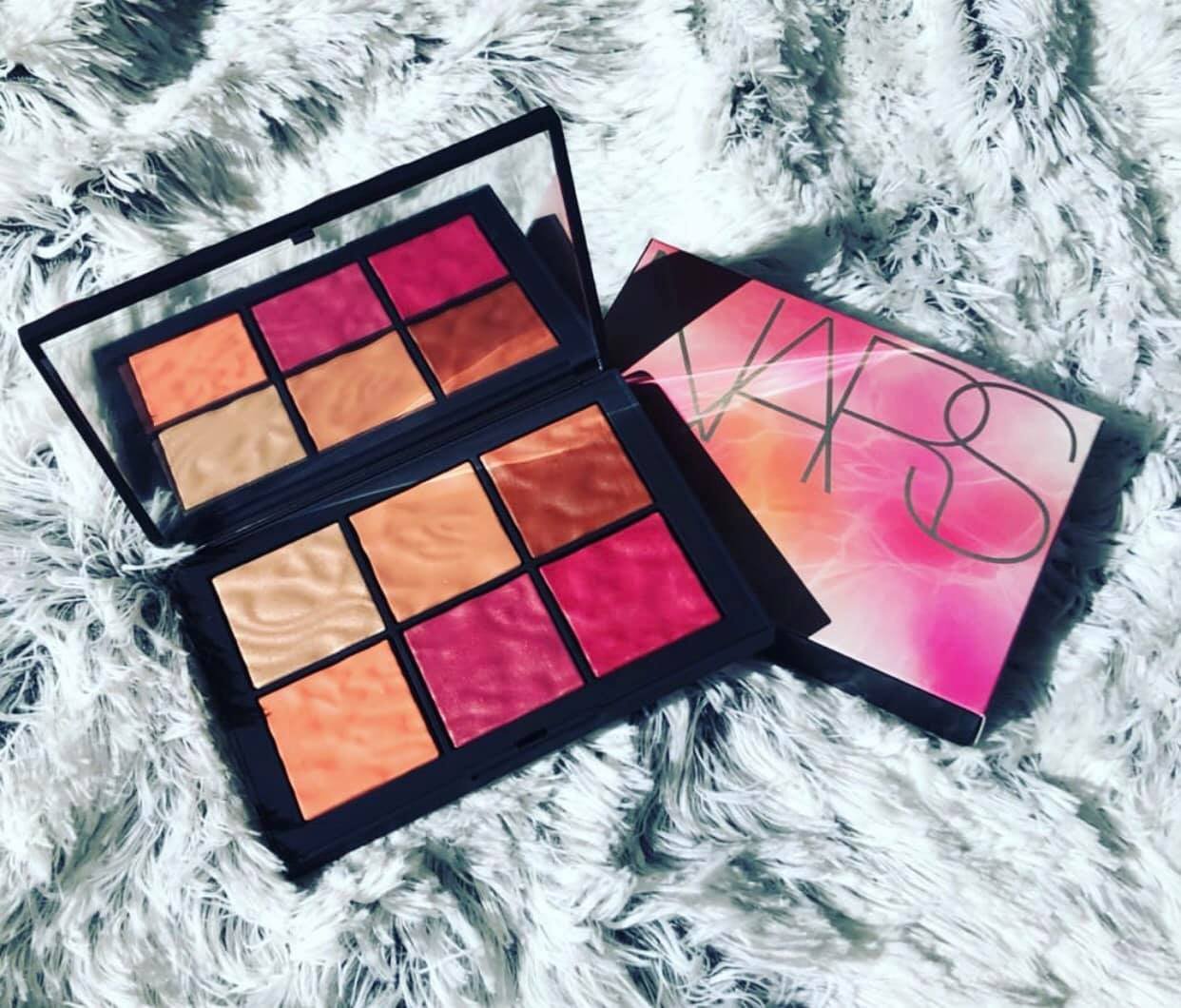 What a stand out this palette is! From the 3D ripples on top, the gorgeous watercolour image, to the gorgeous detailed press in the pans, this palette is simply stunning. True to form, NARS has created a little hand-sized masterpiece. The sturdy plastic makes it hardy and the inclusion of a huge mirror is a massive bonus.
Shades of Nars Exposed Cheek Palette
Alright, let's dig down to the nitty-gritty – the shades. All of the 6 shades are BRAND NEW! Not a double up insight. Which is great for a NARS collector like myself (Pretty sure I own about 7 different Lagunas)
Tell All – Described as a pearlescent golden pink, this shade is a beautiful golden highlight with subtle flecks of pink shimmer. It looks beautiful alone on the cheekbones or used as a glowy blush topper.
Now Or Never – 

Satin Terracotta is surprisingly one of the standouts of the palette for me. The texture is so smooth and buttery and leaves a beautiful sheen on the cheeks. Supernatural and a really unique warm tone to add depth to the face.

Give It Away –

Described as a Satin Nude, this is a really interesting shade. It is a touch too warm to use as a contour shade for me but works beautifully as a bronzer and as an eye colour. It blends out to a rusty kind of shade that would be oh-so-flattering to warm and olive skin tones.

Make You Mine – 

Satin Peach. This shade is another favourite of mine. It applies as a lovely peach shade but is so multi-dimensional that gives the face definition and shape.

 

It leaves my complexion looking natural and flushed.

Come Hither –

Satin Watermelon. This is your traditional pink blush but with a bit oomph. It is slightly shimmery, but that doesn't translate to sparkles on the cheeks, instead, it's glowy and fresh.

New Fling –

Satin Fuchsia. Despite this shade looks a little intimidating, it isn't at all. It is your standard deep pink but with a gorgeous sheen that is easily blended out to make it a little more wearable and natural. I think this shade would be particularly flattering on deeper skin tones.
 Formula Of Nars Exposed Cheek Palette
The formulas are really interesting. Instead of just sitting on top of your cheeks, they somehow melt into the skin and create a stain-like finish. Perfect if you struggle to make your blush last the day.
I find the formula of these blushes to be a little less pigmented and a lot more sheeny compared to NARS's cheek releases in the past – I'm not mad about it. The sheen adds a simply stunning glow to the cheeks. It looks natural and fresh and far from powdery. As far as the pigment is concerned, while still punchy and gorgeous, the formula being a little less pigmented,  in my mind, is a good thing. It allows for an easier application and a little less blending. However, If you want that bright bold colour, the formula is so so so easy to build up. Perfect.
The longevity is great and is up to the usual NARS high, high standard.
Do You Need Nars Exposed Cheek Palette?
Yes. If you're a NARS lover, makeup collector or big on blush, this palette is so utter perfection. The colourway is great and super versatile and the formula is unlike anything NARS has done in the past.  I can't fault it.
Just a reminder that this is limited edition, so you'll have to be quick if you want to pick Exposed up.
Read More: nars-makeup-removing-water-review-high-end-makeup-remover