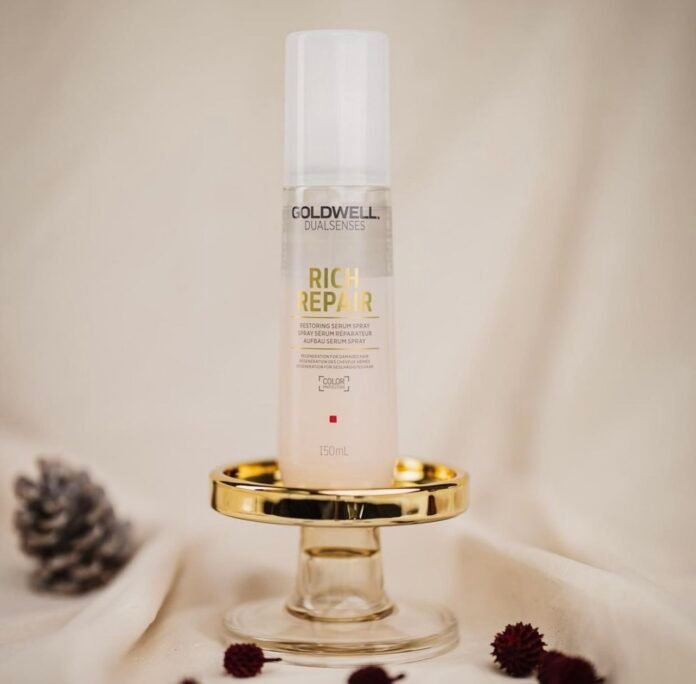 I reached for the Goldwell Dualsenses Rich Repair Serum Spray Leave-In Treatment as a quick spray-in solution. Did it help me? My review about this Goldwell Treatment tells all. 
Not too long ago I was trialling a shampoo and conditioner that left my hair extremely dry and damaged. Despite the products stating they were to "repair" already dry hair, I seemed to have had a completely opposite reaction. My hair became so dry and knotty (even while using the conditioner) that not even a Tangle Teezer could get through it. It was upsetting and after 3 or 4 attempts at sticking to the products, I decided I needed help from the outside in the form of a leave-in treatment just so I could put my hair into a somewhat presentable state. I had previously tried Goldwell's Rich Repair shampoo and conditioner samples while travelling and found them to be too rich for my normal hair. When this damage started occurring I instantly thought back to the Dualsenses Rich Repair range as a potential solution.
First impression of Goldwell Dualsenses Rich Repair Serum Spray Leave In Treatment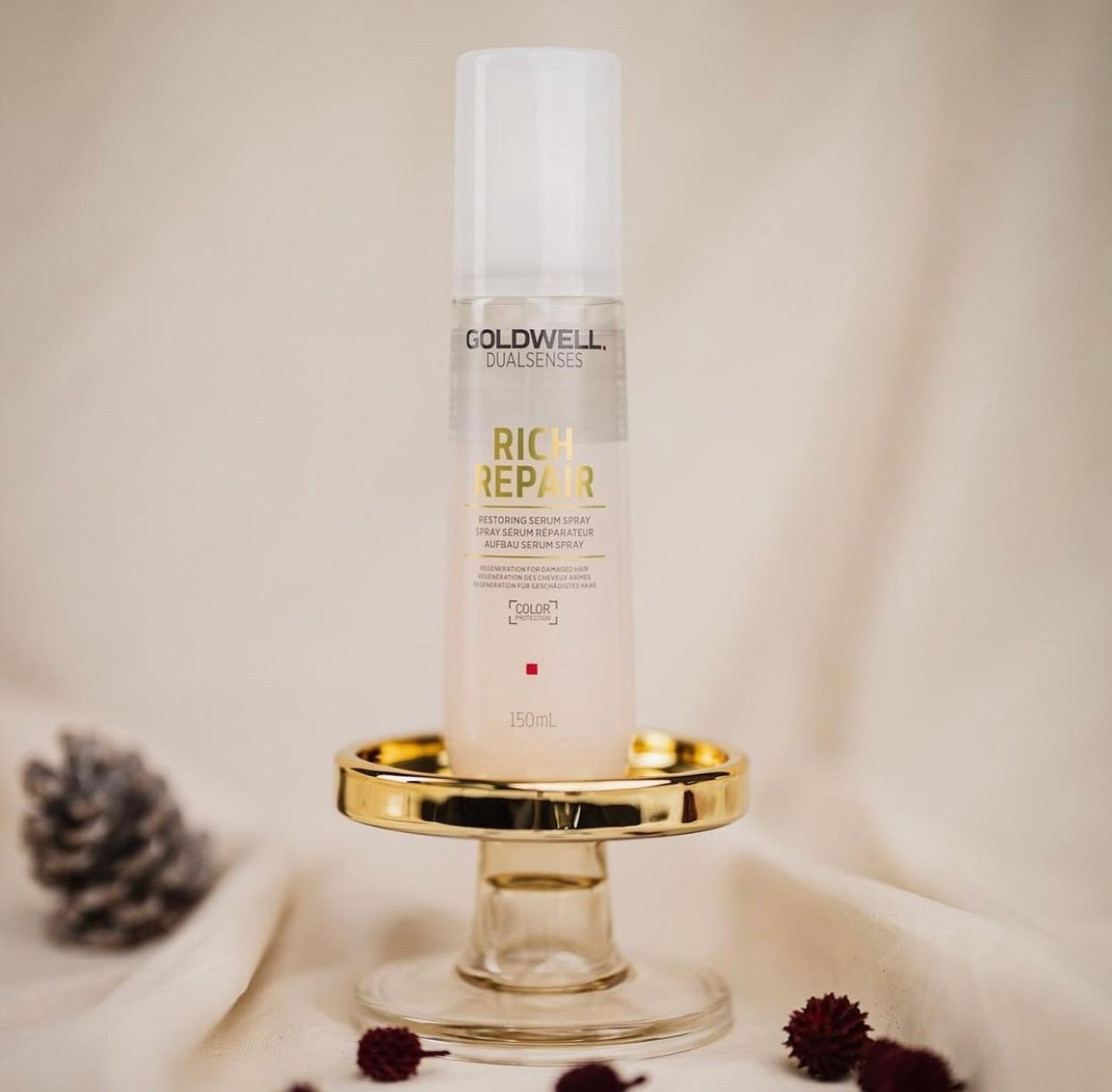 First impression about Goldwell Dualsenses Rich Repair Serum Spray is its packaging. The 150ml bottle is transparent so you can see how much product is left. Beneath the lid is a pump pack that distributes a fine but powerful mist of product. It's great for drenching the hair with only a few pumps. This isn't a product you want to apply to small sections so this delivery system is ideal.
The two-phase mixture shows a clear oil layer at the top and a cloudy yellowish layer beneath it. You must shake the bottle vigorously to combine the formula. It does start to separate again pretty quickly so if you need to spray more you should reshake before spraying.
Goldwell Dualsenses Rich Repair Serum Spray -Testing and real review on damaged hair!!! 
With the extremely dry condition of my hair, I found 3-5 pumps was sufficient to make my hair easy to brush with some patience. When my hair had returned to a normal, less damaged state, 1-2 pumps was all I needed.
The leave-in treatment worked instantly to make my hair look hydrated and easy to brush/comb. With continued use, even while using the damaging shampoo & conditioner, I found my hair became more manageable and counteracted some of the damage being done by the preceding products. Of course in a normal situation I would never recommend continuing to use damaging hair products but for the purpose of this review I did. Once I stopped using the bad products and switched to a hair care duo I knew worked for my hair, the leave-in treatment continued to provide easy brushing and a look of healthier, shinier hair.
Unlike the Goldwell's Rich Repair shampoo and conditioner that I had tried previously, Goldwell Dualsenses Rich Repair Serum Spray didn't become too rich for my hair. I was able to use it every 2-3 days after washing and it provided necessary help without overwhelming my hair and making it heavy.
When used during to heat styling it did not smoke or sizzle.
I found my hair to be slightly less frizzy but the most notable difference was my hair feeling smoother and looking healthier.
It has a lovely 'professional haircare scent' that I love. Its clean, expensive and fresh. I think it perfectly matches the gold labelling as something luxurious and indulgent.
What Goldwell says about their product?
Goldwell Dualsenses Rich Repair Serum Spray restructures the hair from deep inside through its heat-active care formula without weighing the hair down. Instantly improves combability and shine.
The NEW and innovative IntraLipidTM Complex, Instant Microfluid Technology and Pashmina Silk Proteins effectively balances the lipid levels inside the hair and on the surface delivering intensively nourished hair with a visbly enhanced healthy shine.
Beautiful rich aromatic fragrance.
Suitable for: Dry, stressed hair
Size: 150ml
Here is my review of Goldwell Dualsenses Rich Repair Serum Spray. If you find it useful, please continue to follow and support my new articles. You can also read more Lush – Roots Hair Treatment Review