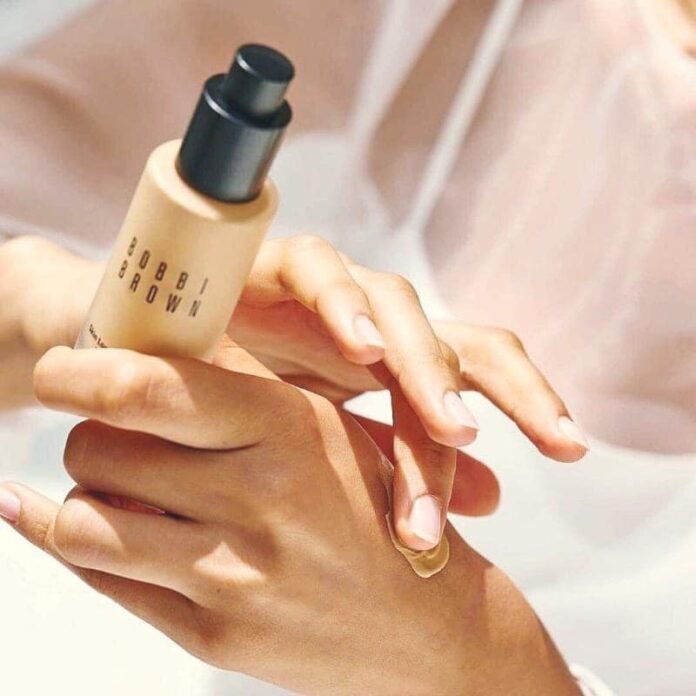 The relatively new Bobbi Brown Skin Long Wear Foundation review last week. Eager to find a new daily foundation and I put it straight to the test. With claims of light-weight consistency, a comfort matte finish, long-lasting coverage and an SPF15, this really seems to be a good contender.
Get your complexion covered all day with this 16-hour wear, buildable medium to full coverage foundation with a natural, multidimensional matte finish that's comfortable, breathable, and weightless.
Review Packaging Bobbi Brown Long wear Foundation
I simply adore the simple glass bottle. It's a great size that fits into my drawers and has a pump style delivery which is my preferred method. Bobbi Brown do understated class so damn well.
Texture
I found the formula to be creamy, but light like a gel, which seems contradictory but somehow works. The coverage can be built up with ease without the threat of the dreaded cakeface.
Bobbi Brown Skin Long Wear Weightless Foundation Review
The foundation applies well, it is really workable and can be applied with a sponge, brush or even fingers. I prefer using a Beauty Blender to ensure an even, streak-free and super natural looking finish, I found that a brush did tend to make it look a little streaky and thick.
I love that with only a light layer, the foundation can even-out skintone and cover blemishes without looking like a mask, but rather acting like a second skin which allows your own skin to shine through – cute little freckles and all. There is no clinging to dry patches, nor is it too matte that it enhances any texture on my face. Plus, it does a really good job of controlling my oil during the day. As expected my natural oils start to penetrate slightly half-way through the day, but we definitely don't get to oil-slick territory.
The wear time is great, and I think this is its only slight downfall. It claims to wear for 16-hours – I can attest to about 12 hours. It definitely does last, but I noticed quite a bit of fading after about 7 hours. It does start to break up a little around my nose and chin, revealing a little bit of redness, but nothing that couldn't be touched up. So, all-in-all it performs really well.
Another plus is the shade range. It boasts 30 shades with different undertones, which gives you a fairly decent amount of options to find the right shade for your complexion.
Review All About Bobbi Brown Long Wear Foundation
I am pretty well sold on the Bobbi Brown Skin long-Wear Weightless Foundation. It is definitely light-weight and natural looking but it also covers up the bad bits, smoothes and evens out skin tone all while lasting you most of the day and offering a small amount of SPF. It really ticks the boxes for my current needs and will be a regular on my face.  I have definitely found a new daily wear foundation in this little beauty. I would imagine that it would work well for most skin types and would perhaps wear longer on you gals with not so oily skin.
Bobbi Brown Skin Long-Wear Weightless Foundation retails for $70 and can be purchased directly from the BB website or from Mecca Maxima and department stores.
Does this little number tickle your fancy?
*DISCLAIMER – Although these products were provided for my consideration, all views and opinions are 100% honest and my own. No sponsorship or money has been provided for my review. All discount codes are not affiliated unless specifically stated. All opinions are based purely on my own experiences. I try my hardest to provide my readers with accurate information, but I am not by any means a professional, nor am I an expert. Please do not confuse my opinions with professional advice.