Hello beauties, Some of you may be familiar with the O Cosmedics brand, as it's a well-known skincare brand with medical grade ingredients. What you may not be familiar with is, that it's just launched a foundation. Now I hear you, why is a skincare brand doing makeup? Don't worry, I'm with you. I was a bit sceptical but willing to give it a go as the brand has a great reputation.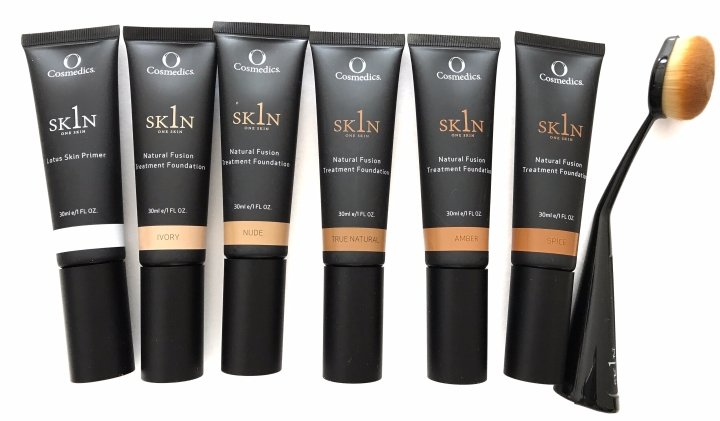 What O Cosmedics says about the 1SKIN Treatment Foundation
"A high performing natural foundation where silicones have been replaced by natural texturisers, designed to hydrate and protect the skin with a velvety finish. The formulation is enhanced by desert date oil, known for its hydrating, nourishing and purifying benefits. 20% of the formula is made by an organic fruit extract, to help fight environmental stress as well as repair skin and support firmness and elasticity, collagen and elastin synthesis."
Review the 1SKIN Treatment Foundation:
Retails for $59
Currently available in 5 shades, please see above the swatches. O Cosmedics has told me they will be expanding the shade range in the near future, so watch this space…
The darkest shade is still a shade or two too light for me
The texture of the foundation is creamy so a little on the thick side- but still blendable
To apply the foundation I used the Treatment Fusion Foundation Brush* to apply it which is quite dense. It actually worked really well to blend the foundation in
The coverage is medium but buildable
The finish is satin, not matte. Yes I look a bit matte in the below photo but that's because I set it with powder. Personally I don't think powder is necessary for this foundation
I was quite impressed with the staying power. It lasted 5 hours while I was in a heated room with no natural oils peeking through…
Overall I was really impressed with the foundation. I'm disappointed that the shade is too light for me, but I loved that it didn't make me oily. I also used the Lotus Skin Primer with it, which was really good. Its light weight and smells beautiful! I've used the primer with other foundations and can say its really helped pro long the wear of my makeup. If you have fairer skin I highly recommend checking out this foundation. I think it would be suitable for all skin types.