Hello beauties, Now I know it's old news, but the Tarte Rainforest of the Sea range launched close to a year ago in the States. While I know myself and a few other crazies bought some stuff directly from the Tarte website, the range will now be available in Sephora Australia! It's expected to hit stores in September so watch this space!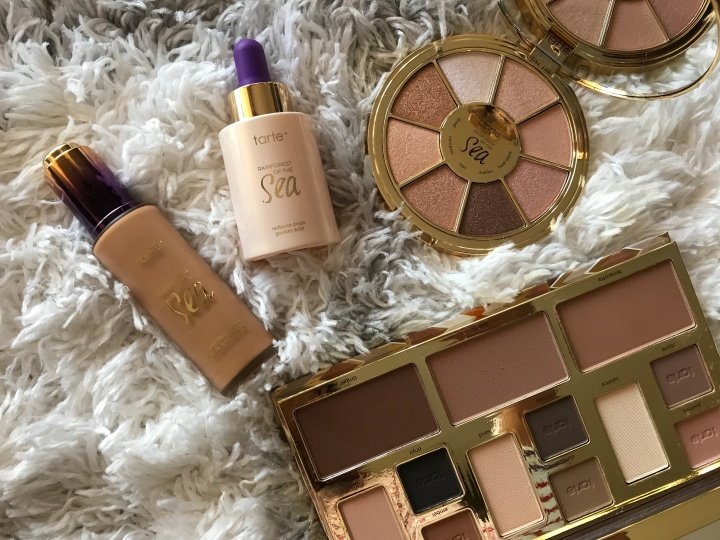 Review Tarte Rainforest of the Sea Foundation
Now this was the most exciting product launch for me that I bought it online from Tarte. But I got the wrong shade not once but twice- so annoying. The colour range is definitely different to their existing shades, so make sure to get colour matched in store. I've done a full review Tarte Rainforest of the Sea Foundation here if you want to check out my thoughts. A bit of a recap and update; its most suitable for normal or dry skin types. As an oily/ combination gal I prefer to mix it with a longer wearing foundation. I'm wearing it below mixed with the Kat Von D Lock It Foundation.
Review Tarte Rainforest of the Sea Radiance Drops
So I'm a bit late of the highlighting drops bandwagon- whoops! Anyway, after some research I learnt you can use this to do much more than just highlighting! You can use it as a highlighting primer, mix with your foundation for a dewy finish and use a face and body oil. Sounds pretty cool! Better yet, the ingredients are awesome; coconut oil, jojoba oil and vitamin e to leave your skin feeling nourished. With the below photo, I used a few drops on the tops of my cheekbones which created a glossy finish. Personally, I don't think that's the best way to use these drops. I've also mixed the drops with a foundation and found it creates a beautiful luminous glow. It also hasn't made me more oily which is a win, but not sure if I'll be trying this in summer…
I should also mention, these drops don't work with all foundations. I mixed it with the FAB foundation and OMG it was a disaster. It oxidised my foundation, I was splotchy and just looked like a hot mess. With these drops be cautious and make sure to trial it out before you mix it with all your foundations.
Review Tarte Rainforest of the Sea Highlighting Eyeshadow Palette Vol III
To be honest I didn't hear too much about this palette, but at the same time I was excited to try my first Tarte eyeshadows! The palette contains 8 shades with a mixture of 7 shimmers and 1 matte shade. The tones are nudes with a hint of pink/mauve as well, so very wearable. In terms of the pigmentation I find it really varies. Some of the shades are fine to just apply with a flat shadder brush but then there's other shades that it's better to use your finger to apply. In the photo below, I'm wearing these eyeshadows on my eye lids. Personally this palette wasn't a hit for me. Too many shimmer shades and I didn't love the pigmentation. Have you tried it? What's your thoughts?
Review Tarte Clay Play Face Shaping Palette
Ok so I'm being a bit sneaky and including this palette even though it's not part of the Rainforest of the Sea range. Now the reason why I included this palette was because I hadn't heard anything about this. Am I the only person living under a rock? Anyway, to me this seems like Tarte's take on the Kat Von D Shade and Light Palette. Basically this Tarte palette contains 11 matte eyeshadows and 1 shimmer eyeshadow that can be used for contouring, eye makeup, or to fill in your brows. It's only available in this one shade, but has so many shades that all skin colours should be able to use it.
I've been using this palette quite a bit. I love the variety of the matte shades and seem to be gravitating to more matte eye looks. The quality of these shadows are amazing! They are so buttery, easy to blend and really pigmented. I used one of the shadows in my brows, and let's just say I had quite a bold brow… I've also tried the lightly shimmer shade in the palette and it's a subtle highlight- without being too glittery.
With the contour shades they are so pigmented you only need a little. I found the best way to contour is with my Revlon Contour Brush. I used a different brush previously and it just didn't blend out my contour and I just looked muddy. Personally, I think this is one of the best products they've launched. The quality is amazing! I'm wearing this palette on my eyes, eyebrows and contour in the first face photo.
Sorry for the lengthy post, but I wanted to give you all the pros and cons before you go out and buy any of the following. If I had to pick one favourite, it would definitely be the Face Shaping Palette! Don't forget, these new Tarte products hit stores in September.