Today, I will review Krave Beauty Beet The Sun Sunscreen SPF50+ that I just bought. Actually I was a bit hesitant to get this, because I know I am most likely won't repurchase after using it, due to the price factor. At roughly RM100 (USD20), this is considered an expensive sunscreen for me. But since I love everything Liah created, I wanted to see if I will like this equally well as other Liah's babies like the Match Hemp Hydrating Cleanser or Kale-lalu-yAHA. Let's take a tour into this Beet (beat) the Sun!
Krave Beauty Beet The Sun Sunscreen SPF 50+ PA++++ Overview
The sunscreen comes in a very practical design. It is flat and light, which makes it really portable for you to carry it around everywhere in your bag. I won't say it is eco-friendly because it is made of plastic, but which cosmetics isn't anyway to save cost? But I like how this doesn't come in huge packaging to overstate the volume of the product inside. Sometimes product looks 2-3 times bigger than they should look like.
On the bottle it says "Beet The Sun", which sounds like "Beat the Sun" with SPF50+ and PA++++, as well as a bunch of other antioxidants rich ingredients like beet root extract, allantoin, vitamin C, resveratrol, and EGCG.
Beet The Sun is a very lightweight sunscreen with no white cast. The texture is highly similar to Biore UV Aqua Rich Essence, minus the strong alcohol scent and feel on your skin. It dries down slightly tacky, just like Biore. So, if you can live with Biore, you will do great on this.
I mentioned in my first impression review that I wasn't that impressed by this sunscreen, because it is just like a much more expensive version of the Biore.
But, I recently realized that I reached out for this sunscreen most of the time. I just love using it for some reasons. Be it the lightweight texture, mild scent, fast absorbency, or portability of it. I also love this the most when I am travelling.
To use it, you just apply 1/4 tsp amount at the final step of your skincare routine every morning. Reapply every 2-3 hours whenever possible.
Krave Beauty Beet The Sun Sunscreen SPF 50+ Ingredients
Water, Butyloctyl Salicylate, Dibutyl Adipate, Beta Vulgaris (Beet) Root Extract, Alcohol, Diethylamino Hydroxybenzoyl Hexyl Benzoate, Bis-Ethylhexyloxyphenol Methoxyphenyl Triazine, Ethylhexyl Triazone, Glycerin,  Pentylene Glycol, Isoamyl p-Methoxycinnamate, Polysilicone-15, Inulin Lauryl Carbamate, Methyl Methacrylate Crosspolymer, Sodium Acrylate/Sodium Acryloyldimethyl Taurate Copolymer, Acrylates/C10-30 Alkyl Acrylate Crosspolymer, Tromethamine, Methylpropanediol, Isohexadecane, Caprylyl Glycol, Glyceryl Caprylate, Polymethylsilsesquioxane, 1,2-Hexanediol, Polysorbate 80, Lithospermum Erythrorhizon Root Extract, Macadamia Ternifolia Seed Oil, Sorbitan Oleate, Ethylhexylglycerin, Allantoin, Epigallocatechin Gallate, Sodium Ascorbyl Phosphate, Butylene Glycol, Resveratrol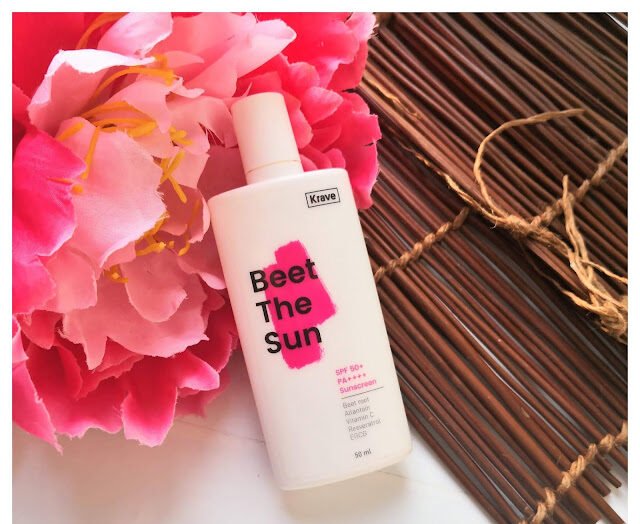 Krave is always open and transparent about their ingredients, which is why most people, myself alike, are really confident with their products.
This sunscreen, like many others, contains alcohol as it is a lightweight solvent for many skincare. It cannot achieve its lightweight consistency without the addition of alcohol. But if you are totally against alcohol then I would recommend that you check this Sun Killer out which is still pretty much like Krave, but without the alcohol.
Personally, I have no sensitive reactions whatsoever towards this sunscreen. In contrary , it feels so feathery light and comfortable on my skin!
Krave Beauty Beet The Sun Sunscreen uses three non-FDA approved but very commonly seen sun filters, which are uvinul A plus, tinosorb S, and polysilicone-15. Uvinul A plus is the main UVA rays filter here. It is stabler than avobenzone and has anti-aging and anti-wrinkles benefits. Tinosorb S, on the other hand, offers wide spectrum protection against both UVA and UVB rays. It is highly photostable with minimal skin penetration. It is complemented by polysilicone-15 that offers mainly UVB protection.
Next, we have a list of many beneficial ingredients that explain itself better here:
Beetroot extract
An underrated yet amazingly antioxidant-rich vegetable, the beetroot holds skin enhancing properties like preventing signs of aging, reducing pigmentation and blemishes and moisturization! A true underdog superfood.
Allantoin
Allantoin soothes skin and relieves skin irritation. This is an absolutely wonderful ingredient which brings both moisturizing and soothing relief to a sensitive, inflamed skin.
Vitamin C, Resveratrol, EGCG
This powerful tag team of antioxidants is proven to shield skin against external stressors and neutralize free radicals.
The rest are mainly just fillers, solvents, emollients and all other ingredients that make up the consistency of this product.
 Krave Beauty Beet The Sun Sunscreen SPF 50+ PA++++ Performance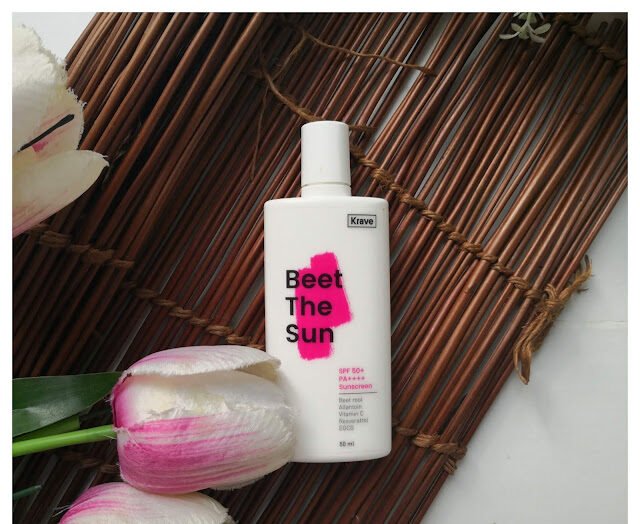 My skin is not drying, oily, flaky, or burn whenever I was using this, which is very telling about its quality. I won't go so far into saying that this blocks UVA rays because I don't have any machine to test it, but so far I am doing quite well with uvinul A plus and tinosorb S sunscreens. The best part about Krave Beauty Beet The Sun Sunscreen is how fast this gets absorbed into my skin after some gentle rubbing. No wonder so many people are raving about it!
CONCLUSION
I like how this sunscreen being very gentle, hydrating, non-sticky (maybe slightly tacky), fast-absorbing, no strong alcohol scent, and no white cast. It is definitely a well-formulated sunscreen made with love.
My only concern is the price, which is about 3 to 4 times greater than Biore Aqua Rich Essence, and at least twice pricier than an average Korean sunscreen with similar, or slightly lower quality.
I still enjoy this very much, but it is quite unlikely that I will use it on a regular basis, or repurchase due to price factor.
Above is my two cents worth of thoughts. Hope you like it! And read more about sunscreen Review: Missha All Around Safe Block Aqua Sun Gel SPF50+ PA++++