Tarte's foundations have always been a little hit and miss for me. While I simply adore the Amazonian Clay 12-Hour Full Coverage Foundation, I'm not a big fan of  Face Tape Foundation as it didn't work for me at all. So when Tarte Water Foundation landed in my grubby little mitts, I was equal parts apprehensive and excited to try it.
TARTE WATER FOUNDATION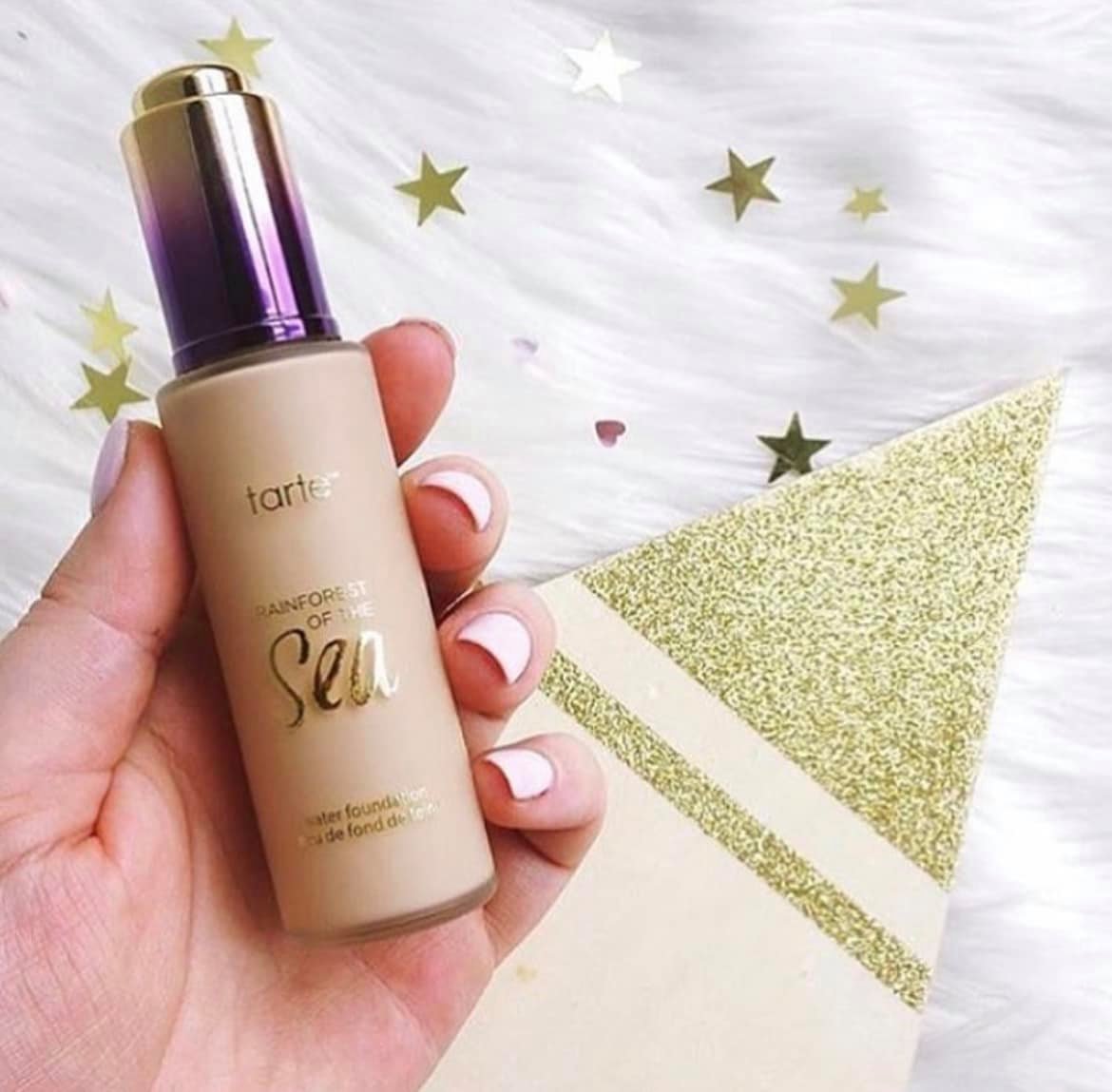 Deliver the ultimate in hydration-boosting coverage with Tarte's lightweight, 12-hour water foundation. The concentrated, full-coverage fluid formula features 20 percent water to quench dry skin as it covers and masks any redness, dark spots, and uneven skin tone while softening the look of pores and fine lines. The custom dropper applicator delivers the perfect level of moisture-rich coverage in an array of shades to match any skin tone. Powered by Tarte's antioxidant-packed Rainforest of the Sea™ complex, the hypoallergenic formula helps restore, brighten, and defend skin from free radical damage and early signs of aging for a smooth, soft, radiant complexion.
KEY POINTS
Lasts for 12 hours
Contains marine extracts
Contains 20% water
Full coverage
Hypo-allergenic
REVIEW PACKAGING AND FORMULA OF TARTE WATER FOUNDATION
The packaging is simple but pretty. Housed in a glass bottle, Tarte's Water Foundation is delivered by an ultra-hygienic dropper – perfect.  The formula is as expected, light runny and really watery.
TARTE WATER FOUNDATION APPLICATION AND LONGEVITY
Don't let the watery consistency fool you, the coverage on this is really decent but I wouldn't say it is full. I would say it is more of a medium.  However, It does layer really well to build up the coverage and feels light and natural on the skin. I found that due to the consistency, it is best to apply with your fingertips. Steer clear of the beauty sponge otherwise it'll absorb all of your product. It dries down really quickly, so you have to get to work buffing this bad boy out. The result is a natural-looking foundation with a satin, almost powdery finish. The initial results are beautiful, but things do seem to go a teeny little bit awry after about 6 hours.
The staying power is ok. Tarte's Water Foundation does fade a fair bit. A little bit of oil peeks through after 6 or so hours, but that is usually expected.  The foundation didn't seem to transfer or move, but instead felt very comfortable, if not, non-existent on the face.  Tarte's Water Foundation, however, does sink into and emphasize the lines on my forehead. Not cute. Plus, it does nothing in the way of smoothing out any texture.
FINAL THOUGHTS
Despite being targeted towards dry skin, this hydrating foundation actually worked pretty well on my oily skin. I didn't find it to be dewy, instead, it was quite a natural finish and at times a little drying. The formula tends to sink into fine lines and grab onto texture as the day wears on. I love the results of this foundation when first applied, and it continues to look lovely up until the 6 hours mark when things start to go downhill. I think this foundation would suit normal skin types who enjoy a lightweight base. I will absolutely continue to use this foundation but won't rely on it to last me a long, hot day.
Read more: Giorgio Armani Maestro UV Skin Defence Primer SPF 50 | Review