Hi beauties, The Kat Von D Lock It Foundation has been a cult favourite in the beauty world for some time but yet again I've been late on the bandwagon. I was first introduced to the foundation by my colleague at work. Her makeup is always flawless and when I didn't have any concealer I borrowed some of the foundation and OMG it covered my blemish! Recently at the Sephora Showcase I was introduced to the new shades in the Lock It Foundation. Currently there are 30 shades available in Sephora Australia and 32 shades available on the Kat Von D website. So there should be a shade for most people!
About Kat Von D Lock It Foundation
Retails for $49 AUD or $35 USD
Available in 30 to 32 shades, not sure if that includes the new shades
Formulated with 21% pigment, meaning more coverage with less foundation
Claims to last 24 hours with no touch ups
Vegan and cruelty free
Review the Kat Von D Lock It Foundation*:
I love the bottle packaging and the pump, but I don't like the little lid/ pump. It's bound to get really messy over time…
I use about a pump to two pumps for a full coverage look
It's quite a thick texture so it is difficult to blend even with a damp Beauty Blender
I was matched with the shade Medium 65 Warm but it's too warm/ orangey for me so I mix it with a cooler shade for the perfect colour
I always set my foundation and am currently using the Kat Von D Lock It Setting Powder and I'm in love with it! More on that a little later…
When I prime and set the foundation with powder, the foundation lasts about 7 hours on my skin with minimal shine
I've worn this to the dentist with water going everywhere and during the 40 degree heat wave and my foundation barely moved, so it does live up to the claims of being long wearing
This foundation didn't break me out but I have heard it can break people out, so maybe start off with a sample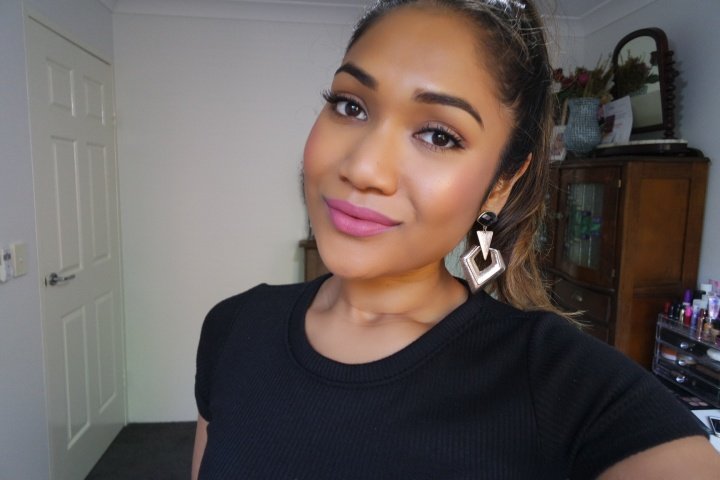 Overall, I'm really impressed with the foundation! Its super long lasting on my oily/ combination skin and provides full coverage without looking cakey. Even though I have to mix this foundation with another one, it still provides a flawless finish and is still long lasting.
Onto the Kat Von D Lock It Setting Powder, it's a finely milled loose translucent powder. This powder is great for setting foundation, without being cakey or too mattifying. The only downside is, it's not pressed so you can't use it on the go. Kat Von D, please bring this out in a pressed form!
I hope you enjoyed this review. Let me know if there's anything that I didn't cover and I'll be happy to answer any of your questions