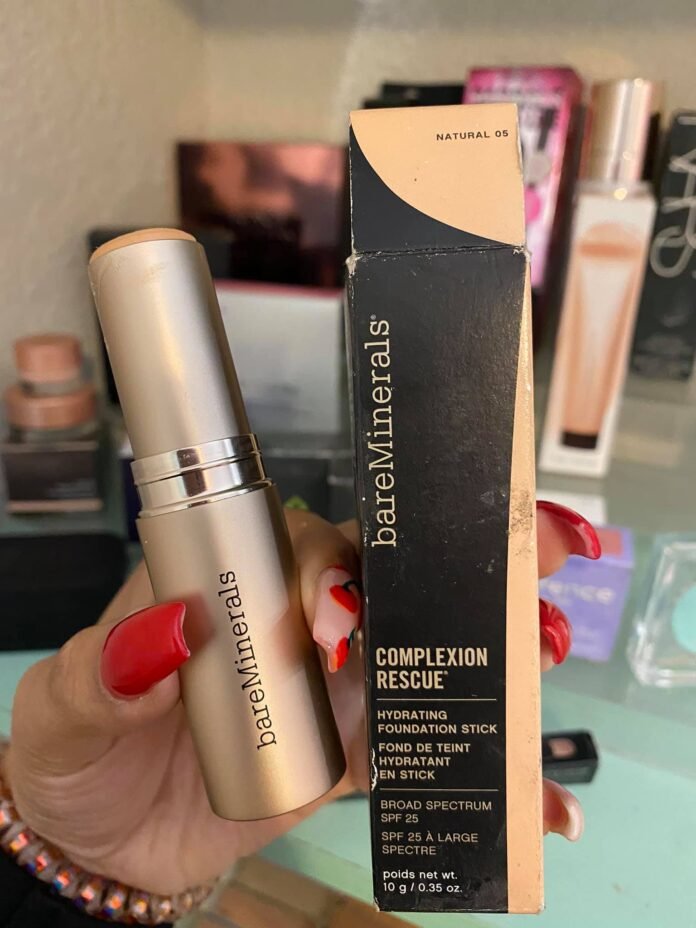 Bare Minerals have recently released a stick version of one of my very favourite daily foundations. Introducing the Bare Minerals Complexion Rescue Hydrating Foundation Stick. I've been putting this handy little stick to the test, so let's see my review how it measures up.
BARE MINERALS COMPLEXION RESCUE HYDRATING FOUNDATION STICK
Achieve a medium coverage, natural and radiant finish with this foundation stick. With a water-based formula and hydrating ingredients, it ensures coverage and moisturisation all day.
COMPLEXION RESCUE HYDRATING FOUNDATION STICK KEY POINTS
$49
Medium buildable coverage
The mineral-based formula is kind on the skin
20 shades
SPF 25
REIVEW FORMULA & APPLICATION BARE MINERALS COMPLEXION RESCUE
The formula is really creamy, if not a touch on the oily side. It is lightweight and so easy to spread and blend out.  I felt like I needed quite a bit of product to get even coverage, and even then It still felt quite sheer. It is definitely buildable to medium coverage, but I would describe the coverage as light verging on sheer. The finish was a little greasy but looked really natural, glowy and fresh.
REVIEW PERFORMANCE AND LONGEVITY BARE MINERALS COMPLEXION RESCUE
I felt quite shiny a few hours in, and the product did seem to slightly collect in lines and around the nose. The chin, mouth, and nose areas had some fading, but that happens with most foundations on me.  The longevity is ok without and the finish remained quite luminous.  I found if I dusted my face with a light powder, or even touched up with the stick itself, I really increased the longevity. In fact, my foundation was completely refreshed.
OVERALL THOUGHTS OF THEBARE MINERALS COMPLEXION RESCUE HYDRATING FOUNDATION STICK
I really like the lightweight, luminous but natural finish, but not so much the way the pigment collects in areas, emphasizing lines and pores. As mentioned, this could be fixed with a quick dusting of powder, or swipe of the foundation stick.  The formula feels a little oily to the touch and the promised medium coverage just isn't there for me. I really need to work at building it up. I remained glowy and radiant throughout the day but at times a little oily. Considering it is Winter, I'd imagine this to be an absolute oily mess come Summer.
I personally feel a bit disappointed by the CR Hydrating Foundation Stick because my expectations were really high. Don't get me wrong, it is far from being a bad product, I do like it. I was just left wanting more. Having been a lover of the original gel-cream formula for so long, I imagined this to be a higher coverage, more practical version of the cult classic. Instead, I am left wondering how it missed the mark.
With all that being said, there are redeeming features. I absolutely adore this for touchups. This formula seems to work on top of any other foundation, to touch up in areas of the face where your foundation has faded throughout the day. Amazing. It blends in effortlessly and makes your makeup look even and fresh, despite it being 12 hours old. Winner.  Plus the size and practicality of a stick means it is so easy to pop into my purse for days when I need a little extra help prolonging the longevity and freshness of my base.
I do think that if your skin is on the more dry/sensitive end of the scope, and you like a sheer to light coverage, this would work really well for you.
What do you think? Have you used the Bare Minerals Complexion Rescue Hydrating Foundation Stick?
Read the article Review Hourglass Vanish Seamless Finish Liquid Foundation