Bioderma Sensibio H2O Micelle Cleansing Water is a popular choice for makeup removal worldwide. Little did I know that this makeup remover was also available in the convenient and handy wipes format. I spotted the Bioderma Sensibio H2O Wipes during an emergency trip to a pharmacy in Paris. As usual, I go in for medicine and I come out with beauty products. No shock there.
Do the wipes work as well as the original micelle water solution? Are they any better than other makeup removal wipes? My review tells you whether these are worth your attention. 
First impressions of Bioderma Sensibio H2O Wipes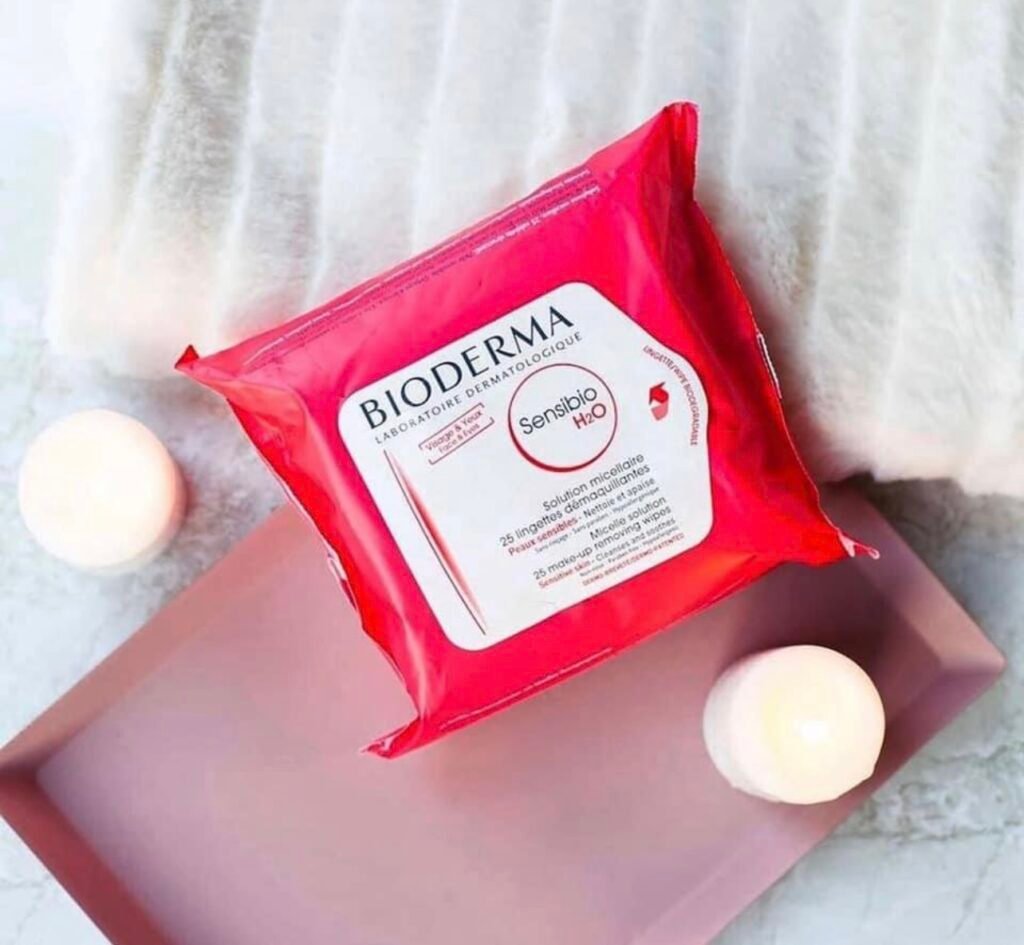 Bioderma Sensibio H2O Wipes (also known as Bioderma Crealine H2O wipes in Europe) come in a plastic pack containing 25 individual wipes. The packaging is standard for face wipes. It's a thick plastic, pouch with a resealable sticker to open the pack. I love the bright pink colour.

Each wipe is softish, flexible and sized like most other facial wipes, but in my opinion, were fibrous despite no visually obvious texture. They aren't the softest wipes I've used. I found them too textured for use on the eye area, but they were fine on the face so long as I didn't rub or swipe over the same area more than a couple of times.

The wipes are drenched in the makeup removal solution and manage to stay extremely moist so long as the pack is resealed tightly. I used one pack over about 2 months without a wipe drying out.
Review: Does
Bioderma Sensibio H2O Wipes

work?
It removes most facial makeup easily with a swipe or two. The products I had trouble removing with these wipes were long-wear and waterproof-based products. They did eventually come off if I did numerous swipes or held the cloth on an area for a few seconds to let the solution sink in a bit.

These wipes definitely aren't sufficient to cleanse my skin as well as remove makeup. I prefer double cleansing if I wanted to cleanse my skin enough to apply my face creams and serums.

Overall makeup removal was not as efficient as using the original Bioderma Sensibio H2O Micelle Water. But it was more environmentally friendly using just 1 wipe as opposed to the 4 or 5 cotton pads I usually use with the cleansing water. However, I didn't feel the clean was as thorough. In many cases, I still needed to use the cleansing water on my eyes to remove mascara.

Bioderma Sensibio H2O Wipes have a very strong floral-fresh fragrance, which is very different from the famously fragrance-free Sensibio cleansing water. The ingredients clearly state that the product contains fragrance. Which I feel is weird because the Sensibio range is targeted at sensitive and intolerant skin. Commonly, fragrances irritate these skin types. The fragrance was nice at first but after using multiple packs of these wipes the fragrance is so strong that it's put me off using them again. I wouldn't recommend this product to anyone with fragrance sensitivity.

My face was left feeling reasonably clean and I didn't find the product to clog my skin or cause any irritations or breakouts. On the other hand, the Sensibio H2O Wipes also didn't leave my skin any softer or cleaner than other products.

If I were to choose between prefer the Bioderma Sensibio H2O Wipes or the original Sensibio H20 Micelle Cleansing Water used with cotton pads, I would choose the Micelle Cleansing Water.
What Bioderma says ….
The dermatological wipes Sensibio H2O enrich with an active micelle solution perfectly compatible with the skin. Its fatty acid esters, the constituent elements of micelles, are similar to the phospholipids of the skin cell membranes
and. Naturally, help rebuild the skin's hydrolipidic film. Thus, Sensibio H2O dermatological wipes guarantee a perfect cleansing and/or make-up removal for sensitive skin and eyes and an excellent tolerance and comfort.
Enhanced with soothing ingredients, Allantoïne, Sensibio H2O dermatological wipes prevent the skin from feeling the irritation often caused by cleansing.
25 wipes per pack
Learn more: Bioderma Atoderm for dry and sensitive skin.