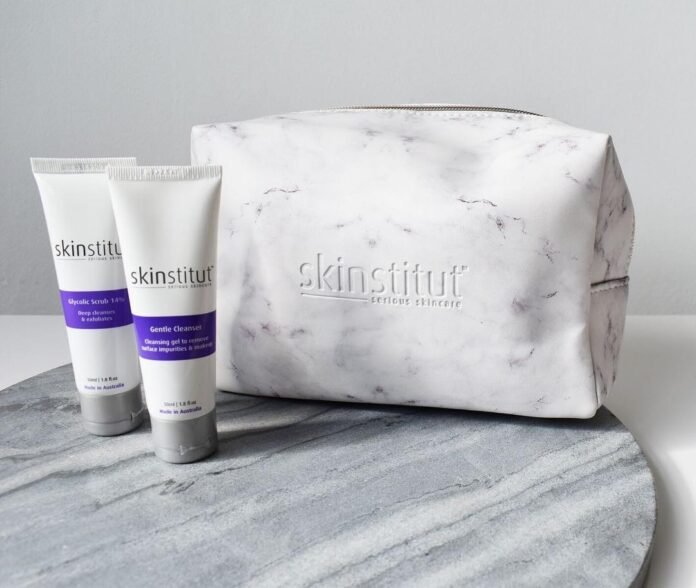 Friends! I am sure you have heard me rave on and on about my absolute holy grail skincare product, Skinstitut Glycolic Scrub 14%. It certainly isn't a stranger to my social media channels. But I thought I would share with you a few extra uses, tips and tricks to make the most out of this little gem of a scrub.
Quick Overview
Just in case you're new here or have ignored my praises of the Glycolic Scrub for the last two years, here is a little run down.  Targeted towards most skin types (excluding highly sensitive, red irritated skin), the Glycolic scrub is not only a physical scrub. It also gives you the added benefits of chemical exfoliation, which in turn deeply cleans the pores and removed dead skin cells, leaving your skin as fresh as can be.  While the formula is super effective, it is surprisingly gentle for the number of active ingredients. But I would recommend starting out sparingly, using the scrub only once or twice a week. And only leaving on the skin for a few seconds. After a while you can amp up the frequency and play with the length of time it stays on your face.
Skinstitut Glycolic Scrub
Well durr!  The standard use for the Glycolic Scrub is a 2-3 weekly treatment to keep skin clean and fresh. This is used in conjunction with your regular cleanser as an added deep clean. Just apply a pea-sized amount to a wet face and give yourself a gentle massage with the jojoba beads to reveal fresh, sparkly skin.
Intense Treatment 
In addition to the above, you can also leave the scrub on your face for much longer to allow the glycolic scrub to really get to work on those dead skin cells. On a clean face, I'll massage in the product and leave it for the entirety of my shower. The steam will open up your pores allowing the product to penetrate deeper.  I do this when my skin is more congested than usual or is looking a little dull.
Skinstitut Glycolic as Lip Scrub
While using this bad boy as a scrub, I sometimes lightly apply a small amount to my lips and very gently buff away any flaky skin. I must stress to you, not to open your mouth or lick your lips while there is scrub around, because it really doesn't taste very pleasant. I find that it removes most of the flaky skin and preps my lips for a liquid lipstick.
Spot Treatment
Have a particularly angry zit you need to be gone ASAP? Smack a dab of the scrub on your raging volcano and leave overnight. The redness will be reduced, and hopefully so will the size. Remember to follow up with an oil-free moisturizer the next morning, as this treatment will dry out that pesky pimple, and the skin around it.
Body Exfoliator and/or Fake Tan Prep
Wanting to get rid of scaly skin? Planning on getting your faux glow on? The night before you plan to fake tan (Man, I am a poet), it's best that you exfoliate those dry and knobbly bits to ensure an even application. By combining both the Skinsitut Glycolic Scrub and the Multi-Active Oil to dry skin and massaging in, you are giving those pins the pampering of a lifetime. After rinsing off, you'll find your skin is buffed but super smooth and hydrated.
Kerastosis Pilaris
Have you ever noticed small bumps or rough dry skin on the backs of your arms or legs? This common condition is called Kerastosis Pilaris and is completely harmless and easily treated topically with, you guessed it, my bestie Glycolic. Apply the scrub to the skin and leave for a few minutes to see smooth bump-free skin.
Ingrown Hairs
Do you suffer with in-grown hairs? Pesky little buggers.  The Skinstitut Glycolic Scrub can help you with this too! Seriously, what can't it do?! By gently scrubbing the area, the Glycolic breaks down dead skin cells to enhance shedding of the skin, and the Jojoba beads buff the skin to encourage skin renewal while removing dirt, debris and even old hair from the follicle.  But use very sparingly around sensitive areas, I would NOT recommend getting this scrub anywhere near your lady bits.  Acid and vaginas DO NOT mix.
If you can't tell, I am a slave to this scrubby miracle worker. It is a product that I am never without. It permanently lives in my shower and I cannot imagine replacing it anytime soon. Do you have a holy grail skin-care product? Do you love the Skinstitut Glycolic Scrub as much as I?