Today, I will review The History of Whoo Gongjinhyang Seol Radiant White Royal Whitening 8pcs Special Gift Kit. I always remember The History of Whoo as the ultimate premium skincare line in Korea. Unlike Sulwhasoo, Whoo almost never discloses its full ingredients list online. I am not sure does they provide those information on the packaging, because I never truly buy a full size bottle myself. The price makes it kinda impossible for me to actually go and buy one of these luxurious-looking babies from my own pocket. So I always get myself miniatures from trusted eBay, Qoo10 or Gmarket sellers. I got myself these cute miniatures from Whoo a few months ago to use it as wedding decor. Of course, part of the reasons is because I really want to try out these skin brightening line from Whoo so badly that I won't mind paying for the shipping.
To cut things short, let's go to this simple and short review on each of The History of Whoo Gongjinhyang Seol skin brightening products below:
Gongjinhyang Seol Radiant White Balancer 20ml
Gongjinhyang Seol Radiant White Emulsion 20ml
Gongjinhyang Seol Whitening Essence 5ml
Gongjinhyang Seol Radiant White Eye Serum 5ml
Gongjinhyang Seol Radiant White Moisture Cream 4ml
Gongjinhyang Seol Radiant White Intensive Spot Corrector 4ml
Gongjinhyang Seol Brightening Gel 13ml
Gongjinhyang Seol Cleansing Foam 13ml
About The History of Whoo Gongjinhyang Seol
The word "seol" here writes as 雪 or snow, which means flawless skin that is as fair as snow. This is the same snow that constitutes the name of Kose Sekkisei 雪肌精. Asians fancy fair and flawless skin, because that normally means better familial background (lesser sun exposure due to lesser habour intensive job) and better genes (you are what you eat, so trust me your skin reflects a lot of your internal health).
This The History of Whoo Gongjinhyang Seol taps into that and attempts to use oriental healing properties to achieve a fairer and flawless looking  complexion.
Main ingredients here are wild chrysanthemum water (a natural skin whitener), jinjusamsan, chilhyangpalbaeksan, seolgamsan complex and other herbal medicinal ingredients.
The History of Whoo Gongjinhyang Seol Ingredients
Wild Chrysanthemum water provides skin with Natural Moisturising Factor (NMF) to promote skin clarity. NMF is the skin's own self-moisturising tool and is made up of a mixture of water soluble compounds such as amino acids which bind water and hold onto it. It's one of the primary elements in keeping skin looking and feeling healthy.
In one study, wild chrysanthemum was found to strongly reduce high dose UVB-induced acute cell death of human immortalized keratinocytic HaCat cells. It was also demonstrated to reduce low-dose UVB-induced expression of the photoaging-related matrix metalloproteinases MMP-2 and MMP-9. This means that wild chrysanthemum water is proven to reduce the 'cell-death' of specific skin cells, and reduce the damage to skin caused by specific types of UV rays.
Jinjusamsan Complex™ prevents melanin formation by targeting on skin clarity and radiance. A powerful antioxidant it improves skin texture and evens the skin tone. Active components are extracted from 7-year-old cultivated wild ginseng and placed into a fire-resistant container to be heated over direct flames. South sea pearls are then combined together with the treated wild ginseng and together they are placed into rice vinegar to extract the purest essence.
Chilhyangpalbaeksan is an oriental herbal medicine prescription for skin whitening from the royal family. It's a combination of 15 ingredients with pleasant fragrances (including red mandarin, sandalwood, white ginseng and tuckhoe) and is used for intensive care for melasma and blemishes induced by external stimuli (namely UV rays and air pollution). It minimises skin stress to reduce melanin production and prevents aging-induced skin dullness to brighten face illumination.
Seolgamsan Complex, which was adapted from Yang Gui Fei's beauty remedy, improves cellular regeneration to reduce melanin accumulation. A combination of five ingredients rich in nutrition and nourishment, it's good for intensive hydration, skin translucency, and overall skin nutrition.
The History of Whoo Gongjinhyang Seol Review
Gongjinhyang Seol Cleansing Foam
This is a traditional creamy foam cleanser that can be easily lathered into soft and bouncy bubbles. It gently removes facial impurities, leaving your skin feeling refreshed and moist. I like how this is not drying or irritating at all on my skin, as my skin is getting more and more sensitive towards harsher cleanser. This cleanser also has a pleasant herbal scent that I love. It rinses off well, leaving no sticky residues whatsoever. However, I don't think I will get the bigger bottle one, as I still prefer Krave Beauty Matcha Hemp Hydrating Cleanser that is gentler.
Gongjinhyang Seol Brightening Gel
This is yet another conventional scrub. Nowadays many people are no longer using scrub or microbeads to exfoliate our skin. We prefer chemical exfoliants like acids. Some people with normal skin like myself likes to have treatment essence to do all the brightening and gentle exfoliating job. As such, although this peeling gel is really gentle, and does leave your skin feeling smooth and soft, it is not something I would repurchase. You can definitely give it a try if you like scrub, and you will be in love with our it makes your skin feeling soft and smooth later.
Gongjinhyang Seol Radiant White Balancer
This milky brightening and moisturizing toner is lovely. I love how it keeps my skin feeling refreshed and moist after using. I didn't see much of a brightening effect though, compared to Sulwhasoo, so if you are looking for a real skin brightening effect, maybe Sulwhasoo will suit you better. But if you like something moisturizing, then this will be great too.
Gongjinhyang Seol Radiant White Emulsion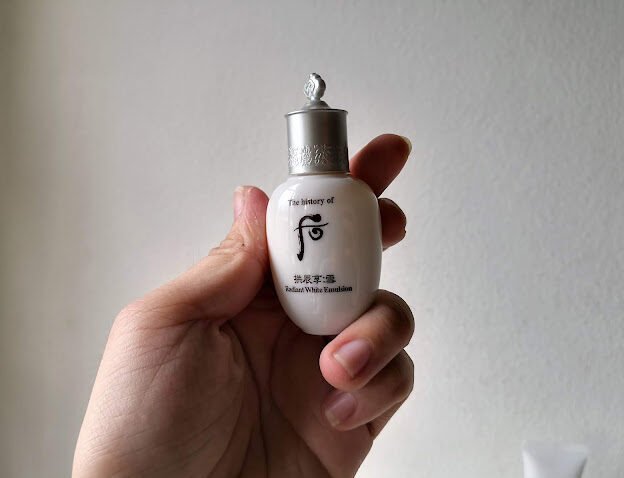 This is one of the best emulsions that I have used. It is so moisturizing that you can use it as a body lotion. The best part is that it is not greasy or sticky at all!
Gongjinhyang Seol Whitening Essence
This essence contains mica to illuminate your skin. Again, I only used 5ml of this, so I honestly did not see an obvious result from it. This feels like the Belif Brightening Essence that I am honestly not impressed of.
Gongjinhyang Seol Radiant White Eye Serum
This is a lightweight eye serum that can be applied on top of your eye cream. It comes in gel form, and feels really velvety on the skin. It keeps my skin hydrated for longer, and make it less dull when I wake up the next morning. Nice, but not amazing.
Gongjinhyang Seol Radiant White Moisture Cream
I actually used this during my wedding. My skin feels so soft and supple after using it hence this is the one that I finished off first among the rest. My skin appears dewier and radiant after using. It is something I would consider repurchasing in future!
Gongjinhyang Seol Radiant White Intensive Spot Corrector
This is similar to Belif's Depigmentation Balm. Its effects are not notorious. It works like a concealer than a depigmentation serum. I did not see any major improvements to my freckles and sun spots. As such, I am not going to repurchase.
Conclusion
I think sometimes it is not necessary for you to go and buy thousands worth of skincare, because really, pricier skincare may not bring better results compared to medium-priced one that you use daily, coupled by better rest and diet.
After using all these miniatures of the thousand ringgits worth of The History of Whoo Gongjinhyang Seol skincare, I can dare say that I did not see any amazing results from any of them. The texture is great, and the scent is enticing too. But there is nothing really amazing that you have to go and get it. I think this will suit you if you have more penny to spare with, and that you are in your late 30s to 40s looking for something brightening and moisturizing. Otherwise, I don't think it is necessary to spend that much on products for topical application.
Read more: Review Missha All Around Safe Block Aqua Sun Gel SPF50+ PA++++