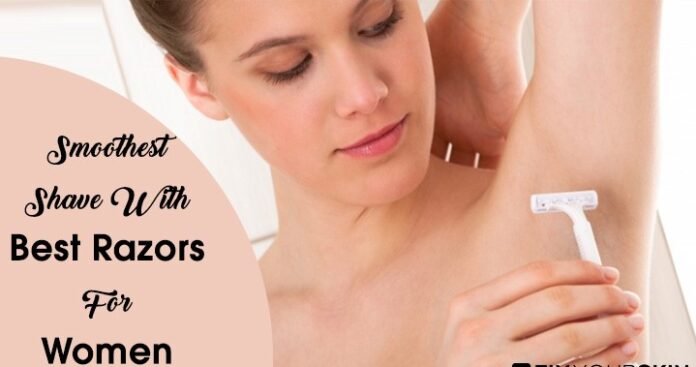 For men, shaving is not a problem. They can work with the simplest razors they can find. Moreover, there's a lot more razors for men than for women, and that's a fact. Do razors for men differ from razors for women? They do, but not as much as you might think. Those that are crafted specifically for women reduce the risks of getting irritated and producing ugly nicks; in other words, they are made for sensitive skin.
Best Razors For Women: Comprehensive Ratings Chart
What's more, men seldom shave behind the knees and around the ankles, or rarely shave their legs altogether. In order to do that, a woman needs a very good razor that not only is extremely sharp, but that can also protect against potential injuries. Let's take a look at 10 of the best razors for women.
Gillette Venus Swirl Razor
This elegant Gillette razor for women is as efficacious as it is beautiful. It has five self-adjusting blades, which means that each of them moves freely in order to adjust to the curves of the body. They are extremely thin and sharp, so practically no hair can escape them.
Another great thing about the Venus Swirl is the "Flex Ball," which allows increased motion when shaving tricky areas like the ankles or the knees. It's needless to say that this automatically transforms it in one of the very best razors for women legs.
Dorco Shai Soft Touch LSXA1000
Despite its pink, flowery design, which leaves you with the impression of a quite placid razor, this Dorco Shai model is a genuine juggernaut among razors for women.
It's got six blades that guarantee a flawless shaving. Because the space between the blades is so narrow, it is likely that this blade will clog with debris as fast as other razors do. The six small openings over the blades allow you to rinse them efficiently in order to prevent corrosion.
Not only does this razor shave, but it also soothes the skin with the mixture of Aloe, lavender and vitamin E contained in the lubrication strip. Everything considered, the Dorco Shai is a classy pick for the ladies.
Schick Quattro for Women TrimStyle
Schick razors for women are great choices, to say the least. The Quattro model is equipped with five high-precision blades that provide a smooth, close shave. This razor does not irritate the skin thanks to the guards of the blades and its moisturizing serum.
It is waterproof and it comes together with a caddy that allows you to store it. As you've already seen, it is both a razor and a trimmer – a fantastic combination for the really affordable price of the product.
It is somewhat sturdier that common razors, but its performance complements that minor disadvantage. While the end with the actual blades is coated with moisturizer, the other end is a trimmer that can be adjusted easily in concordance with the length of the hairs. However, you must make sure that you clean it properly after shaving, to decrease the risk of jamming the blades with hair. The gadget functions with batteries, so that's another benefit.
C.O. Bigelow Premium Razor
This premium razor for women could be a fitting contestant for "Best women's razor". You can guess that it is kind of pricey just by its looks. It has a very elegant allure to it and a unique design.
It is not a disposable razor (it would've been a hole in the budget): you can replace its blades with Gillette Mach 3 blades. This way, it can last you a lifetime. The handle is ergonomic, the body of the razor is made of genuine steel, and its blades are as sharp as blades can get. It's truly a luxury razor for women.
Gillette Venus Divine
There are plenty of Gillette razors for women, but few are as proficient as this one. In spite of the fact that it only has three blades, it provides a very close shave. One of the greatest perks of this model is that it doesn't irritate the skin.
The Venus Divine received countless positive reviews and is becoming trendier every day. It shaves well from just one sitting, so you don't have to go over the same areas more than one time. It is also easier to hold than many other razors.
If you want to use it in the shower, you must know it comes with a shower holder that attaches it to the wall, so you won't step or sit on it by mistake. The moisture strips are full of essential oils.
Harry's The Winston
It is true that Harry's is focused more on men's razors than women's, but this luxurious model works for both genders. There are no Harry's razors for women per se, but they're nonetheless adequate for a women's needs.
The Winston is awfully fashionable, equipped with state-of-the-art razor blades and a rubberized handle to provide full control while shaving. It is quite affordable for what it does. The blades themselves are considerably cheaper than Gillette ones, so all in all, it is a good investment that repays really, really well.
Remington SmartEdge Hyper Series #XF8700
This Remington jewel could not possibly miss from our top best razors for women. It is, at the same time, a razor for women and for men. Even though it looks chunky, it is surprisingly easy to maneuver.
It does not irritate the skin nor leave ingrown hairs on the areas it shaves. You can clean it with the most of ease.
However, it has some downsides, too: even though the battery provides a lengthy running time, it has a slow recharging process; moreover, you may need to go more than once on a particular area if you want a very close shave. Thus, it is up to you whether this is the best electric razor for women or not.
Noxzema Bikini Shavers & Trim
It is quite difficult to shave the bikini line without getting cut or nicked. Not anymore! The Noxzema razor for women is endowed with a 0.625" high-precision blade, perfect for the bikini line.
The plastic guards protect against nicks, making it almost impossible to get injured while shaving. In respect to the lubrication system, this razor contains shea butter. It is extremely cheap and it is usually sold as a 3-pack.
Gillette Venus Spa Breeze
This is another great Gillette razor for women. The Spa Breeze model is equipped with 3 blades. Unlike the previous ones, this has gel bars built in the razor itself; they contain beneficial oils and a delicate white tea perfume. We must also say that they are quite comfortable and perfect for the gym or when you're traveling.
One downside concerning this razor is that it's disposable and it's quite expensive. Despite this aspect, we can say that this is among the best razors for women. Still, in the end, you can tell if the price-quality ratio is well-balanced or not.
Schick Intuition Plus Renewing Moisture
​We have reached the last razor for women in our top. We can say that this one is a nifty way of finalizing this top. Schick Intuition is the best choice you can make when you seek to shave and moisturize at the same time. Because the actual blades (4 of them) are surrounded by the bar of moisturizer and shaving cream, there's no way it could irritate the skin, nor nick it.
It looks huge, but it feels good in the palm of your hand. The pomegranate extract it contains assures the auto-toning of your skin. It is undoubtedly one of the very best razors for women because you don't need soap, shaving foam and moisturizes. It contains all these. Does that make it the best razor for women? You can only find out by trying it.
Final Thoughts
A woman's skin is considerably more prone to getting nicked and cut than a man's, that's why it is so important to make sure you have only the best razors for women. Any of the abovementioned razors could do: they have been created specifically for women to use, except maybe for 2 or 3 of them, which are unisex.
Of course, you mustn't overlook how much you're paying for razors. There are fantastically expensive ones whose quality leaves a great deal to be desired. It is recommended that you don't purchase disposable ones either; look for products with refillable blades.
Electric ones, too, are a good choice, if you know what to look for in a good electric razor. They can last a lifetime, and they're one-time investments, which can be synonymous with saving a lot of money.
But, as you can see, you have a wide range of options to choose from, and now you can make an informed decision.