A gentle facial cleanser is an important staple in my bathroom. I love using skincare full of active ingredients but occasionally it needs a break from fighting the war on aging. And that's when I turn to a gentle basic cleanser. The "Essano Rosehip Gentle Foaming Facial Cleanser" isn't something I would normally be drawn to but with the buzz of Rosehip still going strong, I figured I would give it a go.
I never put too much faith in a skincare product without any actives. So my hope for gentle, basic cleansers is to avoid any irritation, over drying or excess oil production, cleaning off makeup and keeping my skin clear.
Does Rosehip by Essano meet my demands? My review tells all.
Essano Rosehip Gentle Foaming Facial Cleanser -Packaging, Formula and Scent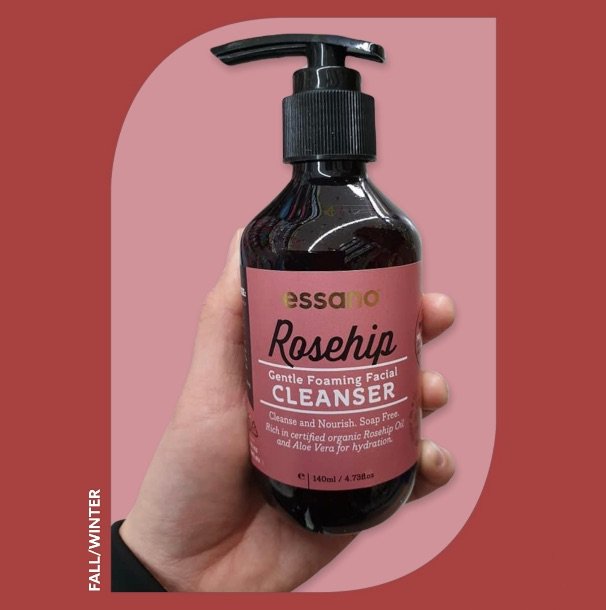 The 140ml plastic bottle is fitted with a black pump pack. This is my preferred kind of packaging for a face cleanser because I wash my face in the shower and I like to think my products are kept as sanitary as possible. A pump pack also makes it easy to dispense the product with slippery hands.

The creamy gel formula is thinner than a regular cleansing cream but thicker than most gel products. Its almost translucent in colour and gently lathers to a whitish foam.

There is a strong fragrance that I believe is primarily the rosehip because it smells the same as other rosehip oils I've used, both by this brand and other brands. It's a dense, floral scent and it stays quite strong until you wash it off. I don't love the smell but I was able to persist in using it for the sake of the trial. If you are sensitive to fragrances I recommend trying to get a whiff of it before purchasing.
Let's see my experiences with Essano Rosehip Gentle Foaming Facial Cleanser
One pump dispenses enough product to cleanse my face and neck. If you use it with an electronic face cleansing device you may wish to use a little less because it foams up a lot more with them.

I found the cleanser to remove makeup well with two washes (double cleansing). One wash removed the majority of my makeup but the second wash is required to actually clean my skin and pores. On the few occasions I just did one wash I felt my makeup was off but my skin was still a little slimy.

When not wearing makeup, a single wash with this cleanser worked well to thoroughly remove surface oil and dirt. It kept my blackheads at bay and my pore clean but I still had a few big pimples pop up on my forehead and chin. I do believe the pimples are from stress and hormones so a cleanser without actives wouldn't have worked to get rid of them anyway.

My skin would feel a little dry after double cleansing but not tight or itchy. It was quickly remedied when I applied

my skincare regime

. A single wash didn't seem to make my skin any drier than usual, but it helped reduce the build-up of oils I get around my T-zone throughout the day.

I love that all Rosehip by Essano products contains no parabens, harsh chemicals, sulfates, phthalates, or petrochemicals. On the downside, many of their products are labeled vegan when in fact they aren't as some products contain lanolin and beeswax.
What Essano say about Essano Rosehip Gentle Foaming Facial Cleanser
Rich in certified organic Rosehip Oil and active natural botanical extracts such as Aloe Vera for hydration. It is soap-free and soothing to renew the skin without drying.
Read more: Essano rosehip nourishing hand creme | Review