I must have been living under a rock, because I had never heard of Dr Dennis Gross Skincare. Once I was aware of the brand, I had a little look around on the interwebs and found that it is a well-loved and raved about brand. I was sent a few of their best-selling products to trial and I thought I'd give my lovely readers some feedback on whether the products are up to scratch and worth the hefty price tags. Reading Dr Dennis Gross review below.
Introduce Dr Dennis Gross Skincare Review
Dr Dennis Gross is a certified Dermatologist and through his work was inspired by the common skin concerns of his patients and created a skincare line to address these concerns. 'Dr. Dennis Gross personally formulates cruelty-free products using science & nature for clear, glowing skin, targeting lines, wrinkles, firmness, dry skin, & acne.'
Firstly, I just want to mention the overall packaging – I really like it. The packaging really reflects the brand and the medical background on which it is built upon. It is informative, clear and bright, without being too clinical. Each of the boxes outline what the product is, what it is meant to do and how to use it. I really like that it is straight forward and informs the user about the active ingredients. The brand really stand behind their products and their claims which I think is really important.
Dr Dennis Gross Review: Hyaluronic Moisture Cushion Oil-Free Moisturiser
The name alone of this bad boy has me sold. If I was on the hunt for a moisturiser and came across this on the shelf, there is a very good chance that I'd buy it without hesitation. Being an oily lass, oil free is the only way to go. Plus, my skin really reacts well to the addition of Hyaluronic acid in products.
Anyway, enough of my first impressions, let's dive in a little further. The box says that this moisturiser works twofold to restore hydration to your skin by drawing in moisture, then sealing it in to keep it looking dewy and supple throughout the day. The word dewy makes me a little nervous, as dewy for me means a hot greasy mess.
The formula is really light-weight and light blue in colour. There is very subtle fresh scent, which isn't offensive in the slightest. The moisturiser feels really refreshing on the skin and absorbs almost instantly. My skin does feel soft and supple and I'm really glad that there isn't any dew in sight.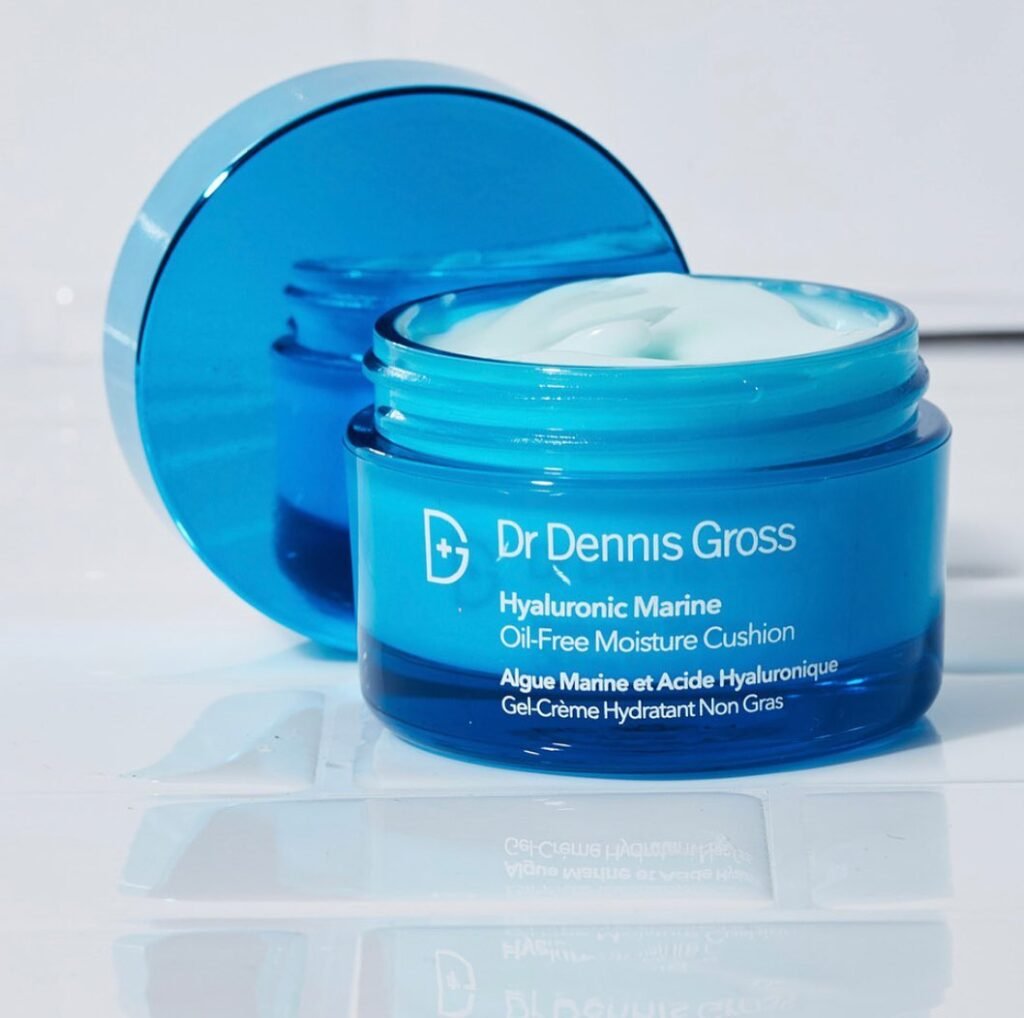 Because of the light-weight formula, this little guy is perfect under makeup and creates the perfect canvas for your foundation. I really like it, really like it. It is similar to my favourite moisturisers of the moment and see it getting a heap of use in summer, when something super light-weight is required.
I am not sure whether it would it would provide enough hydration for you dry gals, but I couldn't say for sure as hyaluronic acid is known for its hydration properties. I am really impressed with this product and would definitely recommend it to my other oily  skinned ladies. #oilyskinforlife
Dr Dennis Gross Review: Clinical Concentrate Radiance Booster
When I first received the package, this little guy probably stood out the most – and not because of the bright orange bottle. This baby can be used alone as a serum or added to other face products, including foundation, to boost radiance. Very interesting.
The radiance booster combines three acids – Pyruvic, Tartaric and Linoleic (all of which, I've never heard of) to resurface and firm the skin. The ingredients list is impressive and contains quite a large array of antioxidants like cucumber, watermelon, green tea and chamomile.
The serum is almost watery and very light in colour, with a faint floral scent. Like the moisturiser, the formula is absorbed quickly and leaves no residue on the skin. I have been using this for around 4 weeks and have actually noticed a difference in my skin. It doesn't look as dull and is definitely a touch brighter. I tend to think that this, in combination with the oil-free moisturiser, has actually regulated my oil production and made me a little more matte. So exciting!
I generally use it straight up as a serum, sometimes add it to my moisturiser, to increase benefits. I haven't yet had the courage to add it to foundation, but I will shortly. Overall, I really like the results that I am seeing and using the product is a pleasure. The price point does make me grimace a little, so I do try to use it a little more sparingly than usual. This little orange bottle of goodness is a winner.
Dr Dennis Gross Review: Ferulic + Retinol Wrinkle Recovery Overnight Serum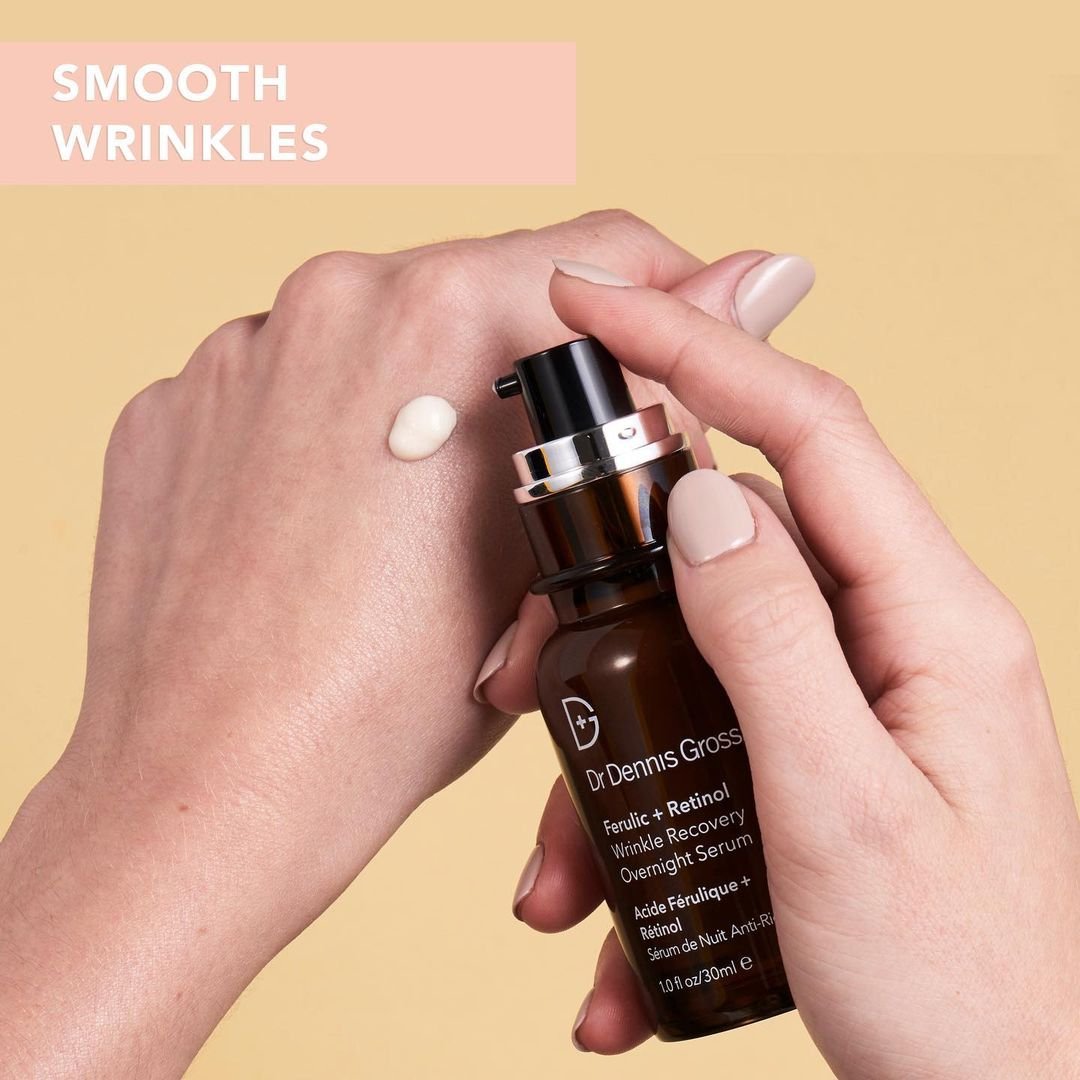 This serum states it 'recovers firmness and helps smooth wrinkles caused by aging and the environment. This potent anti-aging serum delivers a time-released dose of retinol overnight to support skin's natural repair process. A synergistic combination of retinol + ferulic adic and skin perfecting niacinamide re-textures skin for a more flawless complexion.'
The serum is housed in a brown plastic bottle with a handy pump. The formula is a creamy in colour and consistency. The scent is familiar but I can't quite figure out why. It is slightly hospital-y but it isn't bad. The serum is, as you'd expect from an overnight product, much thicker and takes slightly longer to sink into the skin. But when it does, my skin feels incredibly soft and smooth – I couldn't stop stroking it, haha. I really like that it didn't leave any oily residue as some treatments tend to do.
I have only used it a short time but the results have been amazing. I've noticed little lines around my eyes disappear and the overall health of my skin improve with leaps and bounds. I am really excited to see the results after prolonged use.
Dr Dennis Gross Review: Alpha Beta Universal Daily Peel
Ever since becoming a beauty blogger, my favourite discovery has been AHA's especially when they are on cute and practical pre-soaked pads. So, I was really excited to learn that Dr Dennis Gross has created his own product to fit the category, however it has a few differences.
'The 'star' of the skincare range, this two-step system was developed as a safe and effective, at-home treatment to improve the skin on a daily basis. A precise blend of Alpha and Beta Hydroxy Acids, it aims to improve the appearance of skin tone, texture, firmness, clarity, radiance, plus moisturise to leave skin soothed and balanced. Ideal for oily skin and those suffering acne and rosacea.' – Mecca
Dr Dennis Gross Review: Alpha Beta Extra Strength Daily
These little babies are pretty self-explanatory. They are based on the same premise as the Universal daily peel. but just a little bit stronger. I would suggest using the Universal peel first and if you're after a little more, introduce the extra strength variety in slowly for tougher pigmentation and scarring.
Overall, Dr Dennis Gross' Skincare range has really impressed me. My skin is looking the best it ever has. I understand that these products are pricey and will be out of people's price range, heck, they're even out of mine, buttttt after using them and seeing the results I would happily budget to be able to continue to use them. Dr Dennis Gross is sold at Mecca, so I would suggest going in for a peak and even requesting a few samples to see for yourselves.
Have you used any of Dr Dennis Gross' range? Do you like my review Dr Dennis Gross? Let me know.
Speak soon,
*DISCLAIMER – Although this product was sent for my consideration, all views and opinions are 100% honest. All opinions are based purely from my own experiences. I try my hardest to provide my readers with accurate information, but I am not by any means a professional, nor am I an expert. Please do not confuse my opinions with professional advice.