When it comes to beauty trends, there always seems to be something new claiming to be the newest greatest thing. While jade roller  aren't a newcomer to the beauty scene, they sure have been getting a little bit of coverage lately.
WHAT IS A JADE FACIAL ROLLER?
Essentially, a roller is a dual ended tool made out of smooth crystal. These rollers are mainly made out of jade, rose quartz or amethyst.
The roller does look a little strange, but don't let that put you off. The roller has two pieces of smooth jade that roll over your skin. Jade is a beautiful gemstone, used widely in eastern jewellery, ornaments and medicine. Jade is believed to have healing powers as well as metaphysical properties. I have always been attracted to the beauty of crystals and minerals and I have a fairly extensive collection. So this tool perfectly combines my love of crystals and cosmetics.
This little miracle beauty tool has completely changed my skin and skincare regime. No wonder it has been used in China for centuries. I have been using this for nearly 8 weeks now and I cannot live without it, I even took it travelling with me recently.
WHAT ARE THE BENEFITS OF A JADE ROLLER?
The combination of the cool stone and the rolling action promotes lymphatic drainage. Put simply, this movement detoxifies the skin and eliminates toxins and excess fluid stored in the body.
Facial massages are also said to promote blood flow in the skin, which can also increase the production of collagen.  It isn't going to get you the same results as a laser treatment, but with regular use, your skin will pay you back by looking more awake and radiant.
The use of this tool in conjunction with skincare can also allow your products to penetrate the skin deeper. This means you'll reap the full benefits of your skincare.
HOW TO USE A JADE FACIAL ROLLER?
To use the roller you simply roll it outwards and upwards with a small amount of pressure. The jade pieces are cool to touch but I like to keep my roller in the freezer for more of a cooling effect, which also seems to tighten my pores.
Apply your skincare and get rolling. Starting in the middle of your chin, roll your device up along one side of your jaw and repeat on the other side of your face. Move your way up always remembering the golden rule of up and outward motions. While there is no wrong way to roll, the up and out technique will be the most beneficial.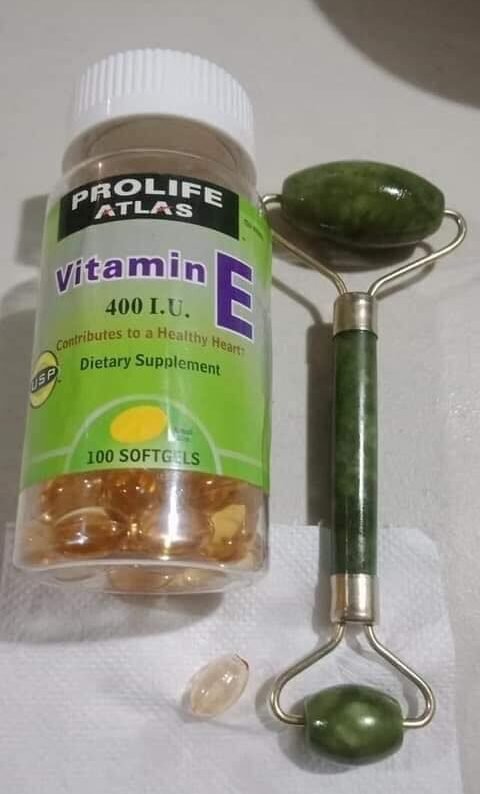 I use it to push in my moisturisers, ampoule and even to massage in hydrating masks. Products seems to be absorbed quicker, under eye bags and gray tones are immediately lifted and any redness just disappears. After use my skin looks plump and glowy. It is seriously a miracle worker. Just using this, regardless of the benefits is such a pleasure. It makes me feel like I am getting a facial, even while sitting at home binge watching Netflix.
DO YOU NEED IT?
This, in all honesty, is a very unnecessary device. But, having said that, these nifty little things are not going to break the bank, and if you are someone who struggles with puffy skin and dark circles this just might be the tool help you to combat that.
*DISCLAIMER – Although these products were provided for my consideration, all views and opinions are 100% honest and my own. No sponsorship or money has been provided for my review. All discount codes are not affiliated unless specifically stated. All opinions are based purely on my own experiences. I try my hardest to provide my readers with accurate information, but I am not by any means a professional, nor am I an expert. Please do not confuse my opinions with professional advice.